'Solo: A Star Wars Story' Featurette: How Flying The Millennium Falcon Blends Practical And Visual Effects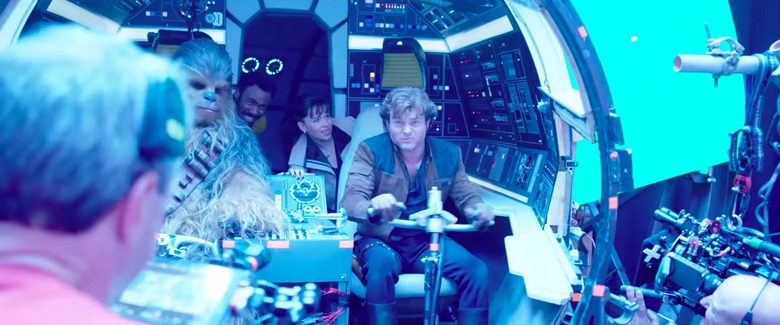 Lucasfilm has dropped Solo: A Star Wars Story featurette alongside the film's Blu-ray and home video releases, which are now available for purchase. The featurette delves into the most iconic spacecraft of the Star Wars franchise: the Millennium Falcon, which you can watch below.
Solo A Star Wars Story Featurette
Most tentpoles these days rely exclusively on digital and computer-generated effects, making Solo: A Star Wars Story a breath of fresh air with its combination of practical and digital effects.
In the featurette, which appears on the Blu-ray and Digital HD release of the film, VFX team for Solo rigged up a giant projector screen in front of the constructed cockpit of the Falcon to give the actors an immersive experience as they performed. "It was like a Disney World ride that only we had the Fast Pass to," Joonas Suatomo, who plays Chewbacca, says in the clip. It's definitely in line with what we expect to see at the Star Wars: Galaxy's Edge land set to open at Disney theme parks next year. Perhaps Disney and Lucasfilm are testing out these features in their productions before rolling them out in theme parks or immersive experiences.
The featurette also gives us a fun behind-the-scenes peek at Ron Howard chatting and laughing with his old friend George Lucas, sitting at the chess set in the Falcon. It's a nice gift for Lucas fans who missed seeing him hang around Star Wars sets.
Here is the official synopsis for Solo: A Star Wars Story, which is now available on digital download, Blu-ray and DVD.
Young Han Solo finds adventure when he joins a gang of galactic smugglers, including a 196-year-old Wookie named Chewbacca. Indebted to the gangster Dryden Vos, the crew devises a daring plan to travel to the mining planet Kessel to steal a batch of valuable coaxium. In need of a fast ship, Solo mee

ts Lando Calrissian, the suave owner of the perfect vessel for the dangerous mission — the Millennium Falcon.