'Halloween' Box Office Tracking Indicates An Opening Weekend Best For The Franchise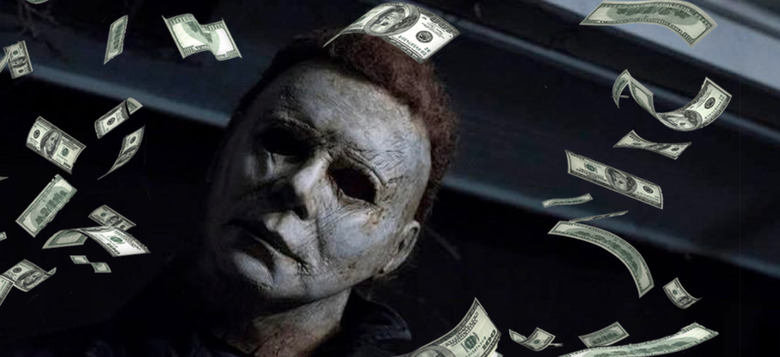 Halloween is about to get a trick-or-treat bag loaded with cash. The latest entry in the horror franchise could be headed towards the biggest opening weekend for the franchise ever. Yes, even bigger than Halloween: Resurrection, starring Busta Rhymes. See the full Halloween box office tracking info below.
The website Box Office Pro is estimating that David Gordon Green's Halloween might be on the path towards a $50-60 million opening weekend (and could even go as high as $85 million). Should this happen, it won't quite give it the October box office advantage – Venom is on track to make slightly more its opening weekend. But it will result in the best opening weekend for a Halloween film.
The current record holder is Rob Zombie's 2007 Halloween, which opened with $26,362,367. Halloween: H20 hauled in $16,187,724 for its opening weekend in 1998. Obviously there's some inflation to be considered, but overall, a $50-60 million opening would still be well above both of those. This really shouldn't surprise anyone. The hype for Halloween has been steadily on the rise. The fact that both Jamie Lee Curtis and John Carpenter were both returning in some capacity thrilled fans of the series, and effective trailers helped catch the attention of everyone else. Reviews out of TIFF and Fantastic Fest were both overwhelmingly positive as well. In short, everyone is pretty damn excited for Halloween, and that excitement is going to translate over into box office earnings.
Halloween picks up 40 years after John Carpenter's immortal classic. Laurie Strode (Curtis) has been spending the last four decades preparing for the inevitable return of Michael Myers. Sure enough, Michael escapes yet again, and finds his way back to Haddonfield, where he targets not only Laurie, but also her daughter (Judy Greer) and granddaughter (Andi Matichak). I saw the film at TIFF, and loved it (although it can't hold a candle to Carpenter's original). From my review:
After 40 years, Michael Myers is finally coming home. David Gordon Green's Halloween takes the legacy created by John Carpenter and Debra Hill and rebrands it for a whole new generation. Fans will not be disappointed. Green has created a film that is alarmingly brutal – a relentless spook show where the boogeyman runs rampant, obliterating everyone and everything in his path. Can this new Halloween hold a pumpkin-scented candle to Carpenter's original? Heavens, no. This film lacks all the chilling efficiency of Carpenter's classic. It has no interest in the slow burn mood building that made the 1978 film the masterpiece that is. Instead, the 2018 Halloween has only one goal: to scare the wits out of you, and have fun doing it.
As a huge fan of this franchise (even the bad movies!), I'm thrilled to see audiences are excited for more Halloween. There's also something fun about having Jamie Lee Curtis lead a box office smash again.
Halloween opens October 19, 2018.