Bradley Cooper Reveals Eddie Vedder's Surprising Influence On 'A Star Is Born'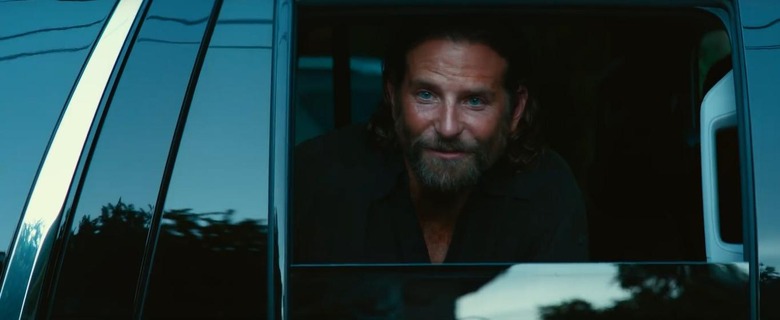 Bradley Cooper may have perfectly nailed the part of an aging rock star, but it turns out that one of the biggest detractors of A Star is Born was Cooper's own rock star friend, Eddie Vedder. Thankfully, Vedder's warnings to Cooper fell on deaf ears, but the Pearl Jam frontman ended up influencing Cooper's performance as Jackson Maine in a different way.
When Cooper was first considering preparing to take on the role of both director and star of A Star is Born, one of the first people he went to was his friend Eddie Vedder, who apparently "thought it was crazy I was going to do this movie. He was like, 'What? Bro, don't do that.'"
In an interview with Yahoo Entertainment at the film's Toronto press junket, Cooper revealed that he went to the Pearl Jam frontman for advice and instead got a warning. But not to be deterred, he pressed Vedder on what life was like as a musician and got everything he needed to form the character of the country-rock crooner Jackson Maine. Cooper recounted:
I went up to Seattle and spent four or five days with him and I asked him 9,000 questions. And he gave me minor, little things that only musicians know about what to do, just aesthetically and the inner workings. He was wonderful.
Jackson Maine is based heavily on Vedder, rather than Kris Kristofferson's rock 'n' roll singer John Norman Howard from the 1976 remake or previous iterations of the character played by Frederic March or James Mason. But Cooper seemed to have made a seamless transformation into an aging star, which is especially impressive considering the actor has never sung in a film before this. /Film's Chris Evangelista wrote in his TIFF review,"Cooper, who is doing a bit of a Jeff Bridges impression here, is very convincing as the alcoholic rock star, all grumbles and lolling head movements."
A Star is Born opens in theaters on October 5, 2018.
Seasoned musician Jackson Maine discovers — and falls in love with — struggling artist Ally. She has just about given up on her dream to make it big as a singer until Jackson coaxes her into the spotlight. But even as Ally's career takes off, the personal side of their relationship is breaking dow

n, as Jackson fights an ongoing battle with his own internal demons.