'The Conners' Brings Back Johnny Galecki, Who Will Be Joined By His 'Christmas Vacation' Co-Star Juliette Lewis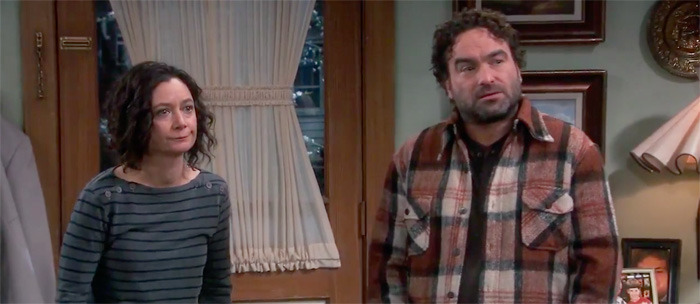 The Conners will continue making its smooth transition away from Roseanne with the addition of another familiar face as a guest star. Johnny Galecki will be reprising his role Darlene's old boyfriend, David Healy, and he'll be bringing along his National Lampoon's Christmas Vacation co-star Juliette Lewis in ABC's Roseanne spin-off series.
Life goes on without former star Roseanne Barr, as The Conners welcomes a few more characters into the fold. Two of those characters will be Johnny Galecki's David Healy, Darlene's (Sara Gilbert) old flame who returned in the Roseanne revival's fan-favorite episode "Darlene v. David," and his "hippie" girlfriend Blue, who was briefly mentioned in that episode and will be played by Juliette Lewis. The episode saw David's tense return after he had run off to South America, but left with the promise that David and Blue might move to Lanford so he could be a part of his daughter Harris' (Emma Kenney) life.
The Hollywood Reporter reports that Galecki and Lewis are set to appear in ABC's spin-off of the highly rated Roseanne, though it's "unclear if Lewis and Galecki will be in one or more episodes." THR notes that this casting comes on the heels of news of the final season of The Big Bang Theory, in which Galecki also stars.
For his part, Galecki is also juggling production duties on the final season of CBS' The Big Bang Theory. While Big Bang is created by Roseanne alum Chuck Lorre, the production last season was not willing to part with its leading man for more than one episode. (The Conners is also produced by a rival studio, which further complicates Galecki's appearance.)
The Conners guest star appearance will be a reunion for Galecki and Lewis, who played siblings in 1989's National Lampoon's Christmas Vacation. Something that Lewis points out in her Instagram post from the set of The Conners, where she sits between Galecki and Gilbert.
The Conners premieres on ABC on October 16, 2018.