'Daredevil' Season 3 Teaser: Wilson Fisk Is Back In His Classic White Suit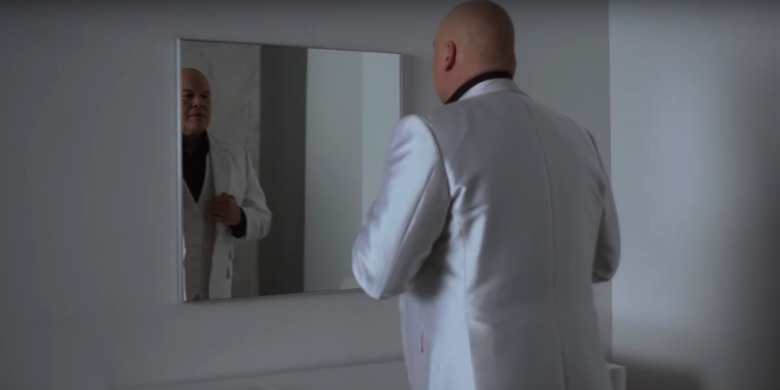 Netflix has released a new Daredevil season 3 teaser featuring Vincent D'Onofrio's Wilson Fisk making his highly anticipated return, this time trading his darker suits for that signature all-white suit.
Daredevil Season 3 Teaser
Just as Matt Murdock (Charlie Cox) returns to his old black suit, Wilson Fisk is donning an all-white suit for the first time. But the white suit isn't exactly new — it is in fact a return to the Kingpin's classic look from the Daredevil comics. Is this a sign that we'll finally hear him referred to as Kingpin? That's yet to be seen.
The brief teaser shows Wilson Fisk putting on his familiar black-and-white cufflinks (which, if you remember from season 1, he wore to remind himself of his abusive father) before donning a white suit jacket to complete the sleek black-and-white outfit. As he stares confidently in the mirror, we pivot over to a dramatically darker room where Matt Murdock is in his all-black suit, burning his white button-up shirt and glasses to give up his double life as a lawyer. It's the perfect yin-and-yang, angel-and-devil symbolism that this show adores.
Just to hammer in how this season is all about Catholic guilt, the Daredevil Twitter added the text "Daniel 9:5" to its post of this teaser, which refers to the Bible verse: "We have sinned and done wrong and acted wickedly and rebelled, turning aside from your commandments and rules."
We last saw Wilson Fisk briefly in Daredevil season 2, where he had found his way to the top of the prison food chain. He manipulates Jon Bernthal's Frank Castle into committing a bloody massacre but arranges Frank's escape from prison, after which we never see Fisk again.
In Daredevil season 3, Wilson Fisk is back as the main foe against Matt Murdock's Daredevil in a season that is set to loosely adapt Frank Miller's 1980 Born Again comics storyline. The comic book arc follows the revelation of Daredevil's secret identity after Karen Page sells the knowledge to his enemies, which Kingpin then uses to destroy Matt's life. But Matt is saved by the mysterious Sister Maggie, who is revealed to be Matt's long-lost mother. The Marvel Netflix series will likely take some creative liberties from the Daredevil comic book run, but from what we've seen of the teasers, it looks like will be just as bleak as Frank Miller's famous story.
Erik Oleson takes over as showrunner for season 3, in which Charlie Cox is set to return as Matt Murdock/Daredevil, as well as Deborah Ann Woll as Karen Page, Elden Henson as Foggy Nelson, and Vincent D'Onofrio will be back as Wilson Fisk, AKA The Kingpin.
Daredevil season 3 premieres on Netflix on October 19, 2018.