'DuckTales' Season 3 Already Ordered, Season 2 Guest Stars Include Edgar Wright And More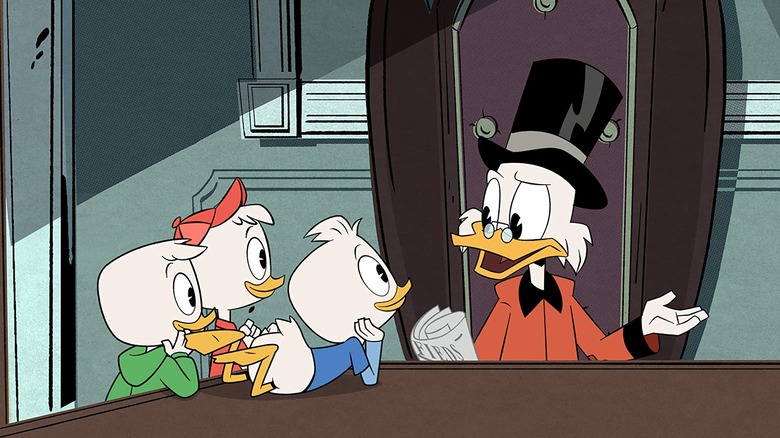 When the DuckTales reboot debuted in 2017, it exceeded the sky-high expectations for the beloved Disney animated franchise, meeting almost universal acclaim. And audiences have responded in kind, leading to show being renewed for a second season immediately.
Now, a month a before the second season is set to premiere, Disney Channel has announced that it has picked up DuckTales season 3. And of course, this being the tongue-in-cheek show that it is, the DuckTales cast announced it with a totally fun behind-the-scenes video. Plus, we have word on some of the exciting guest stars coming in the second season.
DuckTales Season 3 Announcement
DuckTales has been renewed for season 3, which is set to debut in 2019. But that's not the important part — the important part is that stars Danny Pudi (Huey), Ben Schwartz (Dewey), and Bobby Moynihan (Louie), with a fittingly grouchy appearance from co-star David Tennant (Scrooge McDuck), gave us the gift that is this announcement video.
In the DuckTales season 3 announcement video, Pudi, Schwartz, and Moynihan voice the three duckling brothers in the same recording booth for the first time, which naturally devolves into them goofing off for way too long, much to the consternation of Tennant. So when it's time for Tennant's cue, he misses it, which results in the best meta-joke of this video: "More like Dr. When," Moynihan quips, making the Doctor Who reference we were all waiting for.
DuckTales Season 2 Guest Stars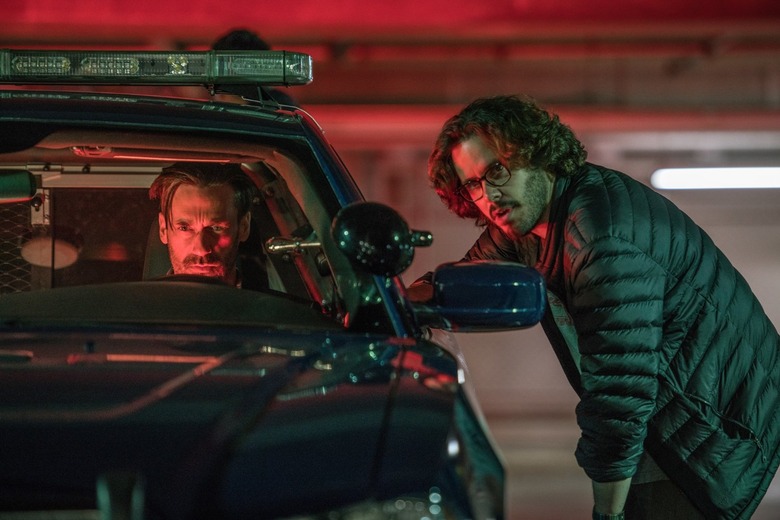 I haven't seen DuckTales yet, but I hope the second season will be rife with more in-jokes and homages in season 2 when it premieres next month. Disney Channel just announced the list of guest stars set to appear in DuckTales season 2 in a tweet below.
#ICYMI: #DuckTales season two guest stars include @itsJulieBowen, @edgarwright, @hodgman, @jameelajamil, @LibeBarer & @lancereddick. The new season debuts Oct. 20 at 7:30am on #DisneyChannel & #DisneyNOW. pic.twitter.com/NbMKJVXyrv

— Disney Branded TV PR (@DisneyBrandTVPR) September 24, 2018
Season 2's guest stars include Baby Driver director Edgar Wright, making a rare performance as an actor, as well as Modern Family's Julie Bowen, The Good Place's Jameela Jamil, The Daily Show's John Hodgman, John Wick's Lance Reddick, and Sneaky Pete's Libe Barer. That list may one-up the star-studded guest stars from last season, which included Lin-Manuel Miranda and Don Cheadle.
Here is the official synopsis for DuckTales:
Strap in for high-flying adventures with Duckburg's most famous trillionaire, Scrooge McDuck, and his mischief-making triplet grandnephews; Huey, Dewey and Louie. After a long overdue family reunion reunites Scrooge with his nephew Donald Duck, grandnephews and epic past, the family of ducks dive into a life more exciting than they could have ever imagined. Intrigued by the wonder of McDuck Manor, the triplets along with Mrs. Beakley's granddaughter, Webby, learn of long-kept family secrets from Scrooge's epic past, sending the family on daring escapades around the world!
DuckTales season 2, which will include a Christmas episode, will premiere on October 20, 2018.