Joker And Harley Quinn Movie Writers Say Spinoff Is Like 'Bad Santa' Meets 'This Is Us'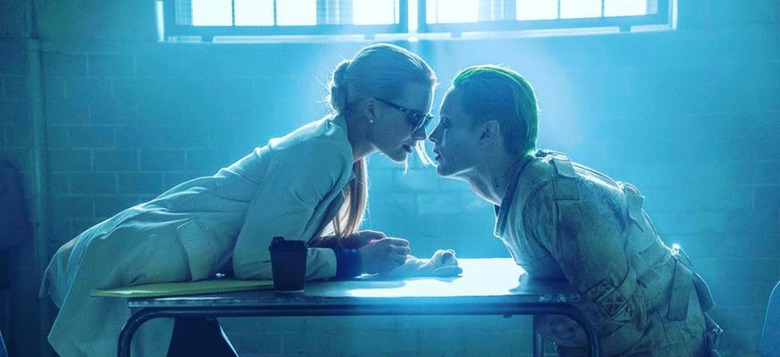 The Joker movie starring Joaquin Phoenix has everyone talking, but don't forget: there's another Joker movie in the works. This film would be set within the current DC Extended Universe as we know it and feature Jared Leto's Joker and Margot Robbie's Harley Quinn. While this Joker/Harley movie hasn't begun production yet, we now have an idea of what the film is about, thanks to writers Glenn Ficarra and John Requa. The screenwriting duo dropped some info about the prospective film, claiming it's going to (somehow) play out like Bad Santa meets This Is Us.  
Warner Bros. DC movies are in a strange place right now. After diminishing returns from the DCEU, the powers that be seem to be taking a "see what sticks" approach for the future. There's a Birds of Prey movie in the works, featuring Margot Robbie's Harley Quinn. Then there's that standalone Joker movie starring Joaquin Phoenix, which isn't connected to the DCEU at all. You can also throw yet another Joker movie into the mix – one that would bring back Jared Leto's tattooed take on the character, first introduced in Suicide Squad.
Th Joker Harley Quinn movie is inspired by the comic Mad Love, and would focus on Leto's Joker and Robbie's Harley Quinn, and their...complicated relationship. The script for this film has been turned in by Glenn Ficarra and John Requa, and in an interview with Metro, the writers revealed some curious details.
For one thing, the story features a role for Dr. Phil, the famed TV personality. "It is great," Ficarra says. "The whole thing starts with Harley kidnapping Dr Phil. Played by Dr Phil hopefully. Because her and the Joker are having problems with their relationship. We had so much fun, I don't know if we have had more fun writing a script in our career."
Ficarra and Requa's credits include the 2003 cult comedy Bad Santa, and episodes of NBC's weep-fest This Is Us. When it came time to pen their Joker and Harley movie, they decided to blend the sensibilities of those two very different projects together. "It was sort of like, we wrote Bad Santa a couple of years ago, and it was that sensibility mixed with our This Is Us sensibility," says Ficarra. "We kind of meshed them together. We were doing a relationship movie but with the sensibility of a Bad Santa, fucked up, mentally deranged people. It was a lot of fun."
This sounds...bad. Look, I don't want to pre-judge something before it even exists, but all of this sounds terrible. A Dr. Phil cameo? That sounds like something from one of the Scary Movie sequels. In fact, Dr. Phil had a cameo as himself in Scary Movie 4 – a movie that came out 12 years ago. The "Bad Santa meets This Is Us" scenario doesn't sound great, either. And while I think Margot Robbie has more to offer as Harley Quinn, I'd be perfectly happy never seeing Jared Leto's Joker ever again. In short: I don't like this.
Lucky for me, there's a chance this movie will never see the light of day. "I don't know where it is on the queue of DC movies," Requa says in the interview, to which Ficarra adds: "We handed the script in and everybody loved it...But I don't know when they are going to do it. Because I know that they want to do Birds Of Prey and they want to do Todd [Phillips]'s Joker film first. Maybe if Birds Of Prey goes well ours will be next."
Maybe. Or maybe we can forget about this entirely!