Michael Moore's 'Fahrenheit 11/9' Tanks At The Box Office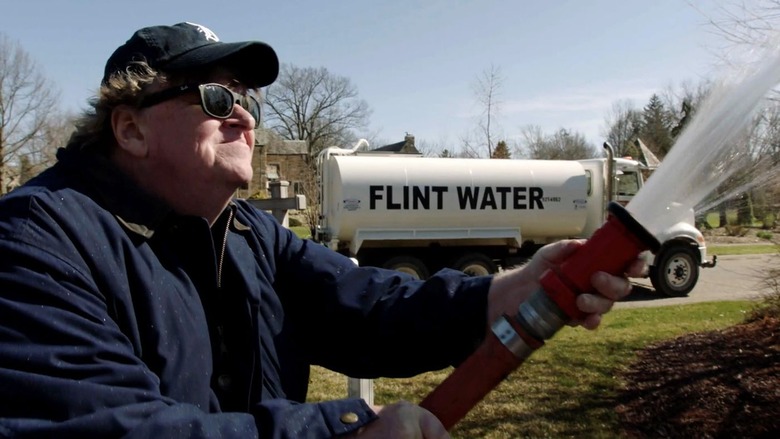 Audiences are cold to Michael Moore's newest incendiary documentary tackling the rise of the Trump administration. The Fahrenheit 11/9 box office returns are looking meager, with the anti-Donald Trump documentary opening to only $3 million. While this is still a generous opening for a documentary, it's one of Moore's lowest openers in recent years.
Forbes reports that Michael Moore's Fahrenheit 11/9 tanked in its 1,719 theater-wide release debut. Compare this to his 2004 mega-hit and the film's thematic predecessor, Fahrenheit 9/11, which opened in 868 locations and earned $23.9 million. The Bush-era indictment of the Iraq War, Fahrenheit 9/11 still retains the title of highest-grossing documentary of all time.
Here's how Fahrenheit 11/9 stacks up to Moore's other big releases:
Where to Invade Next: $3.8 million total; $897,034 opening
Capitalism: A Love Story: $14.3 million total; $231,964 opening
Sicko: $24,540,079 total; $68,969 opening
Fahrenheit 9/11: $119,194,771 total; $23,920,637 opening
Bowling for Columbine: $21,576,018 total; $209,148 opening
Roger and Me: $6,706,368 total; $80,253 opening
Although it's set to outgross Where to Invade Next ($3.9 million in 2015/2016) and become Moore's biggest-grossing documentary since 2009's Capitalism: A Love Story ($14.3 million), Fahrenheit 11/9's poor performance may signal a shift from the era when Moore led the discussion on lightning-rod topics with his films. This despite early reviews praising Fahrenheit 11/9's powerful, if messy, message.
Bowling for Columbine and Fahrenheit 9/11 both welcomed the debut of an "uncompromising mainstream muckraker," Variety's Owen Gleiberman writes, questioning if Moore has lost his audience or if we're just tired of hearing about Donald Trump when we're bombarded with his misdeeds every day. Either way, Moore's name doesn't hold the same power that it once had, and Fahrenheit 11/9's poor box office returns could be the death knell for political wide-release documentaries.
Meanwhile, Fahrenheit 11/9's box office competition didn't fare much better. Assassination Nation and Dan Fogelman's Life Itself both opened to even less than Fahrenheit 11/9. The winner of the weekend looks to be the family-friendly horror movie The House With a Clock in Its Walls, raking in an estimated $26.9 million.
Fahrenheit 11/9 is out in theaters now.
Filmmaker Michael Moore predicted that Donald Trump would become the 45th president of the United States. Traveling across the country, Moore interviews American citizens to get a sense of the social, economic and political impact of Trump's victory. Moore also takes an in-depth look at the media, t

he Electoral College, the government agenda and his hometown of Flint, Mich.