'A Star Is Born' Featurettes: Creating Music Fit For The Stars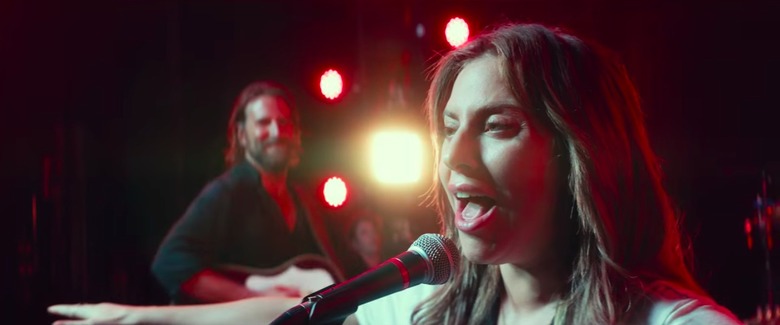 Lady Gaga is a pop star with her own established voice, but she had to start from scratch to portray Ally in A Star is Born. It's that raw, rough-hewn voice that makes the A Star is Born trailer so captivating (and so rewatchable after we've seen it a thousand times).
But how exactly did a sleek pop star like Lady Gaga and an actor like Bradley Cooper create the "voices" of their characters? Two new A Star is Born featurettes show us exactly that process.
A Star is Born Featurettes: Ally
Alongside pop producer Mark Ronson and rock musician Lukas Nelson, Lady Gaga and Cooper had a laidback sitdown to talk about developing the music for A Star is Born. The first featurette hones in on Ally and her signature song, "The Shallow," which has become the central marketing point for the trailers.
"We were writing 'Shallow' from the point of view of Allie...it becomes part of the reason they call in love," Lady Gaga says in the featurette. Writing this pivotal song helped Lady Gaga get into the character of Ally, who has a dramatically different sound than any of Lady Gaga's repertoire. Gaga added:
"When I was writing music for the film I had to think of Ally as if she wasn't me. So I went for a sound with her even in the pop realm that's unlike anything I've ever put out before."
"There's no point in the movie where any lyric is sung that isn't directly related to exactly what their fear is, their hope, their dream," Cooper adds.
A Star is Born Featurettes: Jackson Maine
On the other hand, Bradley Cooper, as an actor first, has no musical voice yet and had to work with rock musician Lukas Nelson — who plays a member of band in the film — to establish what Jackson Maine sounded like. After weeks of workshopping, it essentially boiled down to the sounds of Neil Young.
"I remember we wanted to go super country, and then I thought 'Well why don't we go rock'n'roll?" Nelson says.
This resulted in the movie's most rock song, "Black Eyes," opening the movie — written by Cooper as they were in the midst of filming.
A Star is Born opens in theaters on October 5, 2018.
Seasoned musician Jackson Maine discovers — and falls in love with — struggling artist Ally. She has just about given up on her dream to make it big as a singer until Jackson coaxes her into the spotlight. But even as Ally's career takes off, the personal side of their relationship is breaking dow

n, as Jackson fights an ongoing battle with his own internal demons.