'Star Trek Discovery' Mini-Episodes Start In October, Here's What They're About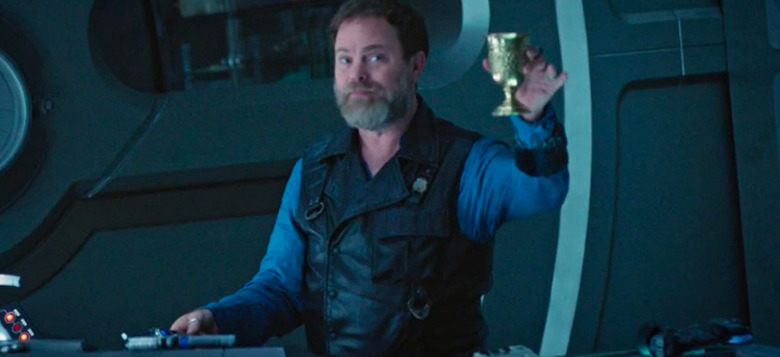 Star Trek: Discovery won't return until 2019, but if you're craving something sooner than that, you're in luck. Next month, CBS All Access is launching a series of Star Trek Discovery mini-episodes, titled Star Trek: Short Treks, to tide you over. Plot details about the mini-episodes, and a teaser, are available below.
Star Trek Discovery Mini-Episodes 
On October 4, CBS All Access will begin airing four stand-alone short stories in the Star Trek: Discovery world, called Star Trek: Short Treks. Each short will run around 10-15 minutes, and will be "an opportunity for fans to dive deeper into key themes and characters that fit into the Star Trek: Discovery and expanding Star Trek universe." Each mini-episode follows a different Discovery character – Ensign Tilly (Mary Wiseman), Craft (Aldis Hodge), Saru (Doug Jones), and Harry Mudd (Rainn Wilson). Here's a breakdown of what each Short Treks episode will be about (via Deadline):
Runaway– Thursday, Oct. 4, Onboard the U.S.S. Discovery, Ensign Tilly (Mary Wiseman) encounters an unexpected visitor in need of help. However, this unlikely pair may have more in common than meets the eye. Written by Jenny Lumet & Alex Kurtzman. Directed by Maja Vrvilo.
Calypso– Thursday, Nov. 8, After waking up in an unfamiliar sickbay, Craft (Aldis Hodge) finds himself on board a deserted ship, and his only companion and hope for survival is an A.I. computer interface. Teleplay by Michael Chabon. Story by Sean Cochran and Michael Chabon. Directed by Olatunde Osunsanmi.
The Brightest Star – Thursday, Dec. 6, Before he was the first Kelpien to join Starfleet, Saru (Doug Jones) lived a simple life on his home planet of Kaminar with his father and sister. Young Saru, full of ingenuity and a level of curiosity uncommon among his people, yearns to find out what lies beyond his village, leading him on an unexpected path. Written by Bo Yeon Kim & Erika Lippoldt. Directed by Douglas Aarniokoski.
The Escape Artist– Thursday, Jan. 3, Harry Mudd (Rainn Wilson), back to his old tricks of stealing and double-dealing, finds himself in a precarious position aboard a hostile ship – just in time to try out his latest con. Written by Michael McMahan. Directed by Rainn Wilson.
This is definitely a clever way to hold fans over as they await the inevitable return of Discovery. "There is no shortage of compelling stories to tell in the Star Trek universe that inspire, entertain and either challenge our preconceived ideas or affirm long-held beliefs, and we are excited to broaden the universe already with Short Treks," Discovery showrunner Alex Kurtzman said (via THR). "Each episode will deliver closed-ended stories while revealing clues about what's to come in future Star Trek: Discovery episodes. They'll also introduce audiences to new characters who may inhabit the larger world of Star Trek."