Michael B. Jordan To Star In New Tom Clancy Film Franchise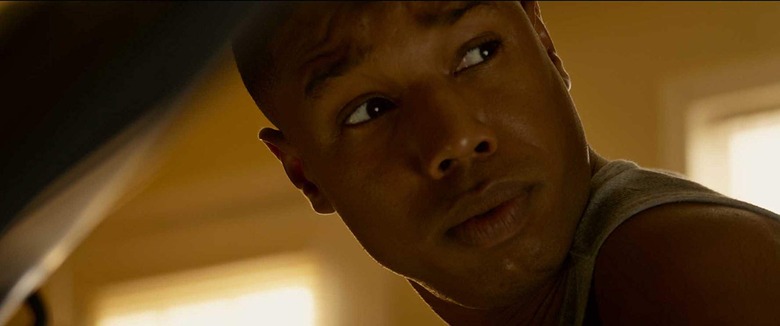 Michael B. Jordan (Black Panther, Creed) has scored a lead role in a new Tom Clancy-inspired film series at Paramount. Jordan will play John Clark, one of the primary characters in Clancy's spy novels, in at least two movies: first in an adaptation of Without Remorse, and that will be followed by a movie version of Rainbow Six. Read more about these new Michael B. Jordan Tom Clancy projects below.
Meet The Newest Cinematic Version of John Clark
has the news of Jordan's casting, saying that he'll play ex-Navy SEAL-turned-CIA-operative John Kelly (aka John Clark) in a new film franchise over at Paramount. The character first showed up in Clancy's novels (17 of them in total) and has already appeared in multiple Jack Ryan movies already, portrayed first by Willem Dafoe in Clear and Present Danger and later by Liev Schreiber in The Sum of All Fears. Thus far, the character of Jack Ryan has been the protagonist of most film adaptations of Clancy's work, but John Krasinski just launched a new take on that character on television for Amazon Prime Video. That makes this a perfect time to give John Clark the spotlight on the big screen for the first time.
Akiva Goldsman, who led the studio's writers' room for the Transformers universe not too long ago, is "spearheading this endeavor as the film's main producer", and he'll produce alongside Jordan, Josh Appelbaum, and Andre Nemec. No writer or director has been attached yet, but one can only hope that Goldsman (whose filmography can generously be described as "spotty at best") doesn't end up putting too much of a noticeable fingerprint on this franchise.
The New Movies
Without Remorse fills in the backstory of how Clark came to join the CIA. A movie adaptation has been kicking around for years, with The Shield's Shawn Ryan
trying to get it off the ground
back in 2010 and Christopher McQuarrie
. And around that same time, word came out that the studio was eyeing Tom Hardy for the role of John Clark in a Without Remorse movie – one that would have also starred Kevin Costner as William Harper, a character he played in the most recent (and arguably most disappointing) Jack Ryan movie, 2013's Jack Ryan: Shadow Recruit. Costner's character was
initially intended to star in multiple films
in the Jack Ryan universe, recruiting Ryan in Shadow Recruit and John Clark in Without Remorse, but since Shadow Recruit underperformed and failed to kickstart a new cinematic universe, it's unclear at this time if Costner will appear in this new iteration of the movie alongside Jordan.
Meanwhile, Goldsman has been developing a Rainbow Six movie since last summer, when he was courting Ryan Reynolds to star. That story focuses on a secret multinational counter-terrorist unit headed up by Clark which rescues hostages and battles terrorist cells around the world.
This sounds like a really cool opportunity for Jordan to headline another major franchise (aside from Creed), and I'm excited to see what he does in such a well-known universe. Maybe he'll convince frequent collaborator Ryan Coogler to step in and direct one of these movies.