'Watchmen' TV Series Score Will Be Composed By Trent Reznor And Atticus Ross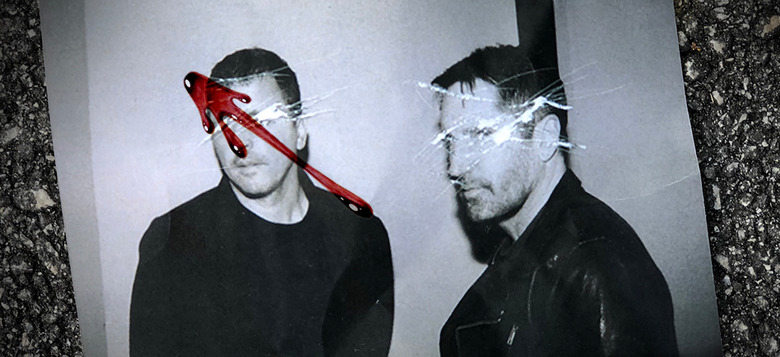 The Watchmen TV series continues to accumulate a great roster of talent. The latest: Trent Reznor and Atticus Ross, of Nine Inch Nails and David Fincher movie soundtrack fame, will compose the score for the HBO series. More on the Watchmen TV series music below.
As HBO's Watchmen TV series continues production, news comes that Reznor and Ross will be handling the music. Reznor and Ross, who had already worked together on Nine Inch Nails projects, began composing film scores together with David Fincher's The Social Network. The end result earned them an Academy Award, and kicked off a fruitful collaboration composing film scores. From there, they went on to work on scores for The Girl With the Dragon Tattoo, Gone Girl, Patriots Day, the upcoming Jonah Hill movie mid90s, and more.
Reznor and Ross – The Social Network
Adding Reznor and Ross into the mix makes Watchmen extra appealing. Their moody, synth-based scores are often instantly memorable, and will no doubt lend a distinct edge to the HBO series. Watchmen is "set in an alternate history where superheroes are treated as outlaws," and is described as a show that "embraces the nostalgia of the original groundbreaking graphic novel while attempting to break new ground of its own."
While the basis of Watchmen is Alan Moore and Dave Gibbons' iconic graphic novel, show creator and writer Damon Lindelof has said that the series won't be an adaptation. Instead, Lindelof calls it a "remix", with the story set 30 years after the events of the comic. Lindelof added:
This story will be set in the world its creators painstakingly built...but in the tradition of the work that inspired it, this new story must be original. It has to vibrate with the seismic unpredictability of its own tectonic plates. It must ask new questions and explore the world through a fresh lens. Most importantly, it must be contemporary. The Old Testament was specific to the Eighties of Reagan and Thatcher and Gorbachev. Ours needs to resonate with the frequency of Trump and May and Putin and the horse that he rides around on, shirtless. And speaking of Horsemen, The End of the World is off the table...which means the heroes and villains–as if the two are distinguishable–are playing for different stakes entirely.
Watchmen stars Regina King, Jeremy Irons, Don Johnson, Tim Blake Nelson, Louis Gossett Jr., Yahya Abdul-Mateen II, Andrew Howard, Tom Mison, Frances Fisher, Jacob Ming-Trent, Sara Vickers and Dylan Schombing. It's expected to premiere on HBO in 2019.