Jamie Foxx And Joseph Gordon-Levitt Join Netflix Sci-Fi Film From 'Catfish' Directors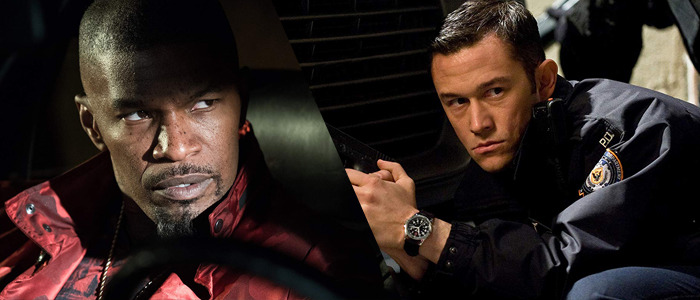 Talk about an intriguing combination of talent: Jamie Foxx (Django Unchained, Collateral) and Joseph Gordon-Levitt (Inception, Looper) have joined the cast of an untitled Netflix sci-fi movie that involves characters gaining superpowers. My curiosity is already piqued by just that small amount of information, but there's something else that raises my eyebrows even more: the movie will be directed by Henry Joost and Ariel Schulman, the guys behind the 2010 documentary Catfish. Learn more about the project below.
Collider reports that Joost and Schulman, who burst onto the scene with Catfish and went on to direct Paranormal Activity 3, Paranormal Activity 4, and small thrillers like Nerve and Viral, are directing this untitled movie and have just secured two huge stars to play major roles. Here's the outlet's description of the story and how Foxx and Gordon-Levitt will factor in:
[The untitled film] concerns a drug epidemic that gives people a range of superpowers. The protagonist is believed to be a teenage actress of color who finds herself dealing the drug to help care for her family. Sources say Foxx will play a family man who has suffered a great loss and is desperate to trace the drug's supply line and find its designer, while Gordon-Levitt will play a beat cop who takes law enforcement matters into his own hands.
This is an intriguing premise from writer Mattson Tomlin (who wrote and directed the 2012 drama Solomon Grundy – which, no, before you get excited, doesn't have anything to do with the Batman character), and it sounds like it's playing with several types of movies in one. Is it more of a sci-fi superhero story, a revenge drama, or a vigilante thriller?
I haven't seen the past couple of movies from Joost and Schulman, but I'd describe them as the types of filmmakers who regularly make the most out of small budgets. I remember the palpable suspense they were able to generate simply by attaching a camera to a rotating floor fan in Paranormal Activity 3, and they even managed to imbue a documentary like Catfish with enough twists, turns, and style to catapult that phrase into the cultural lexicon. I'm looking forward to seeing their continual evolution as filmmakers – especially now that their next step includes teaming up with powerhouse performers like Foxx and Gordon-Levitt. Hopefully the script gives the actors enough to do, since we've seen them play seemingly similar characters before in films like Sleepless and The Dark Knight Rises, respectively.