'Big Mouth' Season 2 Trailer: Unleash Your Inner Monster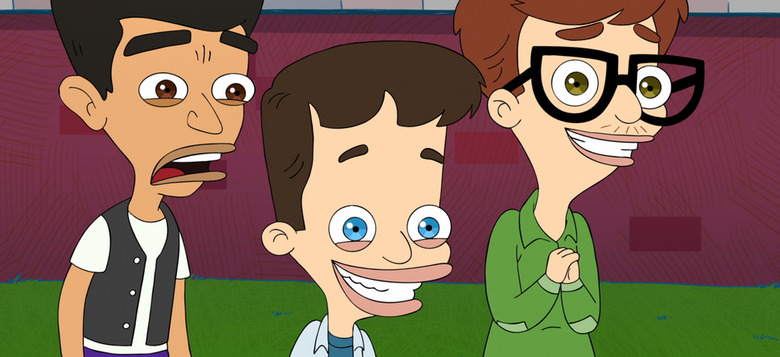 Netflix's very adult animated comedy Big Mouth is returning for a whole new season loaded with jokes about "the glorious nightmare that is teenaged puberty." Boners, boobs, and monsters take to the screen, all in the name of wholesome cartoon entertainment. Watch the very NSFW Big Mouth season 2 trailer below.
Big Mouth Season 2 Trailer 
I've never seen a single episode of Big Mouth, but based on this trailer, it's a show about cartoon teenagers dealing with all the unfortunate elements of puberty – and then some. The show boasts a fantastic cast of very funny people: John Mulaney, Nick Kroll, Maya Rudolph, Jason Mantzoukas, Jordan Peele, Fred Armisen, Jenny Slate and Jessi Klein.
In an interview from last year, Kroll
season 2 would have "more conversations about puberty":
"We have a lot of stuff that we are planning for season 2 which is a lot more conversations about puberty. But also expanding beyond just The Hormone Monster as there are other parts that are not just the hormones that come into play within burgeoning sexuality. Issues of shame, drugs and a lot of other stuff like that. There's things that we want to explore around shame and divorce and understanding sexuality and all that kind of stuff."
In a separate interview, Kroll
: "There are other ideas and characters that we are interested in [introducing to Big Mouth] that we didn't have time in 10 episodes to cover...We've got a lot of ideas, 'cause puberty is not a subject that is light on material."
Big Mouth season 2 will debut on Netflix October 5, 2018.
Big Mouth is a 10-episode, half-hour edgy adult animated comedy from real-life best friends Nick Kroll (Kroll Show, The League) and Andrew Goldberg (Family Guy) about the glorious nightmare that is teenaged puberty.
Comedian John Mulaney (John Mulaney: The Comeback Kid, Saturday Night Live) lends his voice to the character of Andrew, while Kroll (who serves as co-creator, executive producer) voices many including best friend Nick. Maya Rudolph (Maya & Marty, Bridesmaids), Jason Mantzoukas (The League, Lady Dynamite), Jordan Peele (Keanu, Key and Peele), Fred Armisen (Portlandia, Documentary Now!), Jenny Slate (Girls, Lady Dynamite) and Jessi Klein (Inside Amy Schumer) are among those who lend their voice to the series.
Nick Kroll, Andrew Goldberg and screenwriter-directors Mark Levin & Jennifer Flackett are all creators and executive producers on the series. Big Mouth is a Netflix production.
Visit Big Mouth on Netflix.