How The Hilarious 'Ralph Breaks The Internet' Disney Princess Scene Came To Be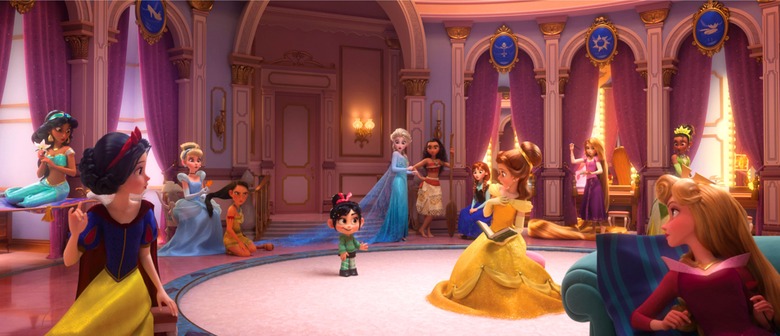 Ralph Breaks the Internet sends Ralph and Vanellope into the larger universe of the world wide web, but it is a pit stop at the Disney-owned fan site OhMyDisney.com that provides the opportunity for the most talked about scene in the film: Vanellope ends up coming face to face with a room filled with the iconic Disney Princesses.
This hilarious scene might seem obvious in retrospect, but the filmmakers weren't even sure Disney would allow them to do it. This is the story of how the Ralph Breaks the Internet Princess scene came together.
Why Can't We Do It?
Since the story takes place inside the internet, the filmmakers saw an opportunity to do something meta and irreverent with the Disney brand.
"It felt like if everyone else does it, why can't we do it?" said director Rich Moore. "We can do it better than other places because those are our characters – we know them intimately."
But it took a while to find a place in the story. During the conceptual phase, the writing room was playing around with the idea of Ralph somehow taking one of those "are you an Anna or an Elsa" tests, and him and Vanellope getting into an argument over it. And someone in the room threw out an idea: what if Anna and Elsa were somehow there? But how could that be possible? Someone suggested they do it in the context of Disney's own Buzzfeed-style site Oh My Disney. Including that site in their internet world would allow them to play with the Disney brand in a much more significant way.
Co-writer Pamela Ribon wondered out loud why Sugar Rush's Princess Vanellope isn't canon as a Disney princess. This led to Ribon imagining an even bigger scene. In the film, Ralph and Vanellope need to create a viral video to make the money necessary to buy a replacement steering wheel for Vanellope's Sugar Rush arcade game. Ribon's idea was that Vanellope met all the princesses as a moment captured for the viral video: "If she met all the princesses, that might break the internet."
She told herself she would try to work it out over the weekend and if she came up with something she would present it to the team on Monday:
"But if she met the princesses, I assumed the first question would be: What kind of princess are you? So I went home with this idea, and all these different troupes of princesses."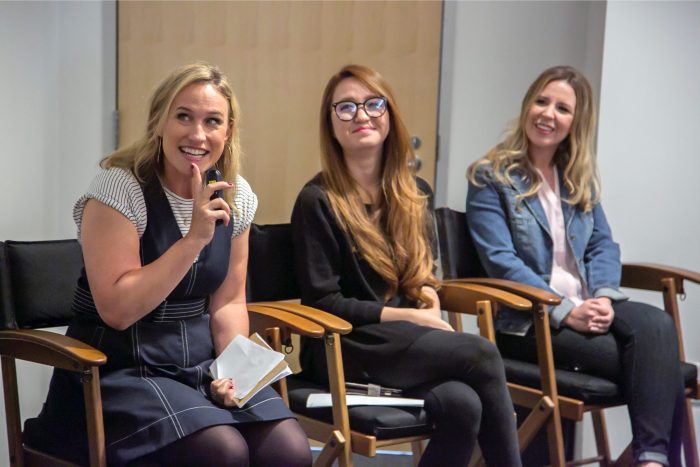 I'm Going to Be Fired, or This Might Be a Big Deal
Ribon started as a TV recapper on TelevisionWithoutPity.com (where her creation of the word "muffin top" earned the word an entry in the Oxford English dictionary), which helped launch her comedy writing career. She worked in comedy rooms on a number of network shows, including Samantha Who, before becoming a member of the Disney story trust in 2013, beginning with her work on the Disney Nature film Bears. She then helped with punch-ups on Zootopia and was a full credited writer on Moana, where she became good friends with the production office manager, Elise Aliberti.
The first time Aliberti met the new Moana writer, she jokingly presented her with a request: "Can you do me a favor – can you maybe never let her ever have a love interest... and can her mother live? Is that possible?" Ribon knew instantly that she had met her new best friend. And a friend who was perfect to help her figure this specific scene out:
"So I called Elise and said I have all these princesses and I have all these things that have happened to them and I just want to make sure I have everything. And I asked her 'Who was kidnapped? She was like 'What?' I said, 'Who was enslaved?' She was like 'Pam, what are you doing?!'
Over the weekend, Ribon frantically wrote the scene, and reading it back to herself, she began to have doubts. Was this too far over the edge? Would they allow this? She explained:
"I had a panic attack and I laid down on the floor and said 'either I'm going to be fired or this might be a big deal.'"
Laying on the floor, unsure if submitting this was a huge mistake, she began texting snippets to Aliberti, who was the first test audience, laughing hysterically in emojis and asking for more. This gave Pamela the courage to bring it in on Monday. The first script pages share a lot of the same jokes as the final draft, with a few differences (The character of Yesss originally appeared in the room with Vanellope). They did a script reading of the scene on Monday and it played as well as you might expect – the room loved it. It was a loud reaction:
"And the first thing Rich [Moore] said afterward is 'do you think we can get away with this?'"
Instead of asking, the decision was made to keep working on the sequence and see if anyone told them they couldn't. They never asked the Disney higher-ups for permission and they knew that the animatics would either live or die in the first screening for executives. When the animatic finally screened, the directors of some of the original pricness movies were in the room, which added to the tension. The scene ended up playing big and no one told them they couldn't do it  – the whole company was behind it.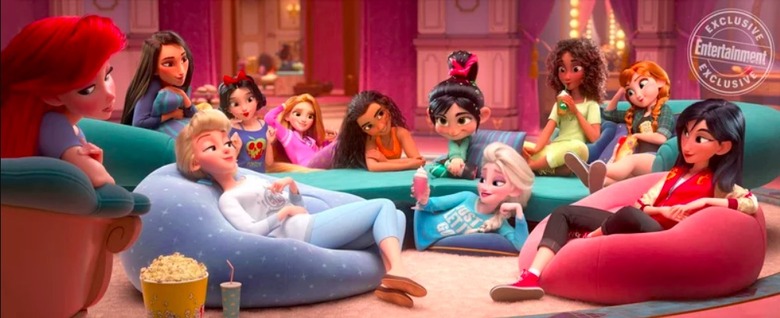 Redesigning the Disney Princesses
The Disney princesses had to be completely redesigned so that they looked like they all belonged in the same computer animated world. The production decided on a more cartoony version of the princesses because it fit the style of the OhMyDisney website. To plan out the placement of the characters in the scene, they used a mix of Disney Infinity figures and other toys on a desk.
In the original scene, the Princesses were wearing pajamas, but it was decided that they looked too relaxed, so they landed on the middle ground of comfort clothesL t-shirts, sweatshirts, sweatpants, etc. They spent weeks designing ideas for the princesses' shirts and had hundreds of ideas, but had to settle for one design for each. Here's how they break down:
Cinderella wears baby blue yoga pants and a shirt with a pumpkin carriage graphic and the text "GTG" on it.
Snow White wears a poison apple with the word "Poison" underneath.
Elsa wears a cool blue sweater with the words '"Just Let It Go."
Anna wears a green checkered flannel shorts and a t-shirt with the words "Finish each other's" written over a graphic of a sandwich.
Mulan wears a red and yellow bomber jacket with Mushu dragons on the shoulders, jeans, and red Chucks.
Pocahontas wears a purple long-sleeved shirt that says "Blue Corn Moon." Again, very on brand.
Moana wears an orange tank top with an illustration of a crab and the word "#shiny" written on top.
Rapunzel wears a striped hoodie and purple leggings with printed floating lanterns.
Tiana wears a light green shirt with "NOLA" written on it.
Merida wears a green flannel top, with a t-shirt featuring an illustration of a roaring bear with "Mum" written at the center.
Aurora wears a striped long-sleeved shirt that says "Nap Queen."
The backstage dressing room for the princesses was inspired by the Dream Suite at Disneyland. All the cubbies have details inspired by the princess that uses it. For example, Snow White's dressing room has the magic mirror, Rapunzel has painted a mural in hers, and Ariel's has her thingamabobs and treasures.

Princesspalooza 2016
The team held an event in 2016 called Princesspalooza, a small lab to help design and animate the princesses. When they could, they returned to the source material to try to get the translation just right. They looked back at Glen Keane's original drawings to try to translate Ariel's hair in three dimensions. The animation department even took a research trip to Disneyland to "meet" the princesses.
All the living original voice actresses returned to voice the characters. They not only read their lines, but were sometimes about to improve (AKA "plus") their behavior with insights as to how their character would act or how something would be said by the character. For example, Jennifer Hale objected that Cinderella "Would never make a contraction!" The animators held question and answer sessions with them and videotaped them for reference.
Walt Disney's original Snow White voice actress Adriana Caselotti died in 1997, so that character needed to be recast. For the storyboards and animatics, co-writer Pamela Ribon provided the scratch voice for Snow White, and they got so used to her voice in the role that they decided to use her for the final film instead of recasting it with a voice actress. Ribon has a BFA in Acting from the University of Texas and moved to California to become a voice actress before finding her career as a writer – so it all came full circle.
They've even tried to include some subtle homages to moments from the characters in the scene. For instance, Cinderella putting her finger on her chin while she's thinking is a reference to a moment in the original movie. Some callbacks are more evident than others. Mark Henn, who animated many of the Disney princesses, served as an advisor for the film to try to bring a higher level of authenticity to them. He provided some hand-drawn animation to inspire how they should move in CG.
And don't worry, this one scene isn't all we have – the writers teased that we will see a little bit more of the princesses in the movie.