Pop Culture Imports: 'After The Storm,' Live-Action 'Bleach,' A Sugary Sweet Bollywood Rom-Com, And More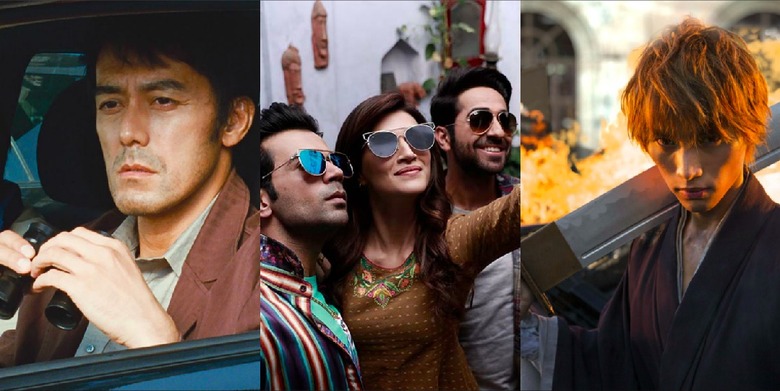 (Welcome to Pop Culture Imports, a column that compiles the best, wackiest, and weirdest foreign-language movies and TV shows streaming right now.)
Film festival season is in full swing, but so is extreme weather — which makes it the perfect time to throw on some foreign films. What better thing to do when weathering autumn storms than to watch Hirokazu Kore-eda's After the Storm, just as the Japanese auteur scores another festival circuit hit with his new film Shoplifters? On the other hand, if you're looking for fluffier fare, there's also a You've Got Mail-inspired Bollywood rom-com, a live-action adaptation of the popular fantasy anime Bleach, and a South African body-swapping comedy.
So, get over the film festival envy and turn on those subtitles.
After the Storm – Amazon Prime
Country: JapanGenre: DramaDirector: Hirokazu Kore-edaCast: Hiroshi Abe, Yoko Maki, Taiyô Yoshizawa, Kirin Kiki, Satomi Kobayashi.
"A stew needs time for the flavors to sink in; so do people," muses the Krin Kiki's matriarch in Hirokazu Kore-eda's tender family drama After the Storm. Kiki, who just passed away this month, has long been a comforting presence in the Japanese auteur's films. And in honor of her final performance in Kore-eda's 2018 Cannes Palme d'Or winner Shoplifters, this column is spotlighting her and Kore-eda's best collaboration, After the Storm. A slow-burn of a movie anchored by a delicate, full-bodied performance by Abe Hiroshi, After the Storm centers around a gambling-addicted private detective who, after the death of his father, struggles to reconnect with his son and pay his child support. Fixated on the glory days of his former career as an award-winning novelist, he finds that everyone surrounding him — including his ex-wife, his aging mother, and his sister — are moving on in their lives except for him. Hiroshi is heartbreaking as the deadbeat dad who is eager to recapture some kind of idealized family harmony that never existed. But there's a wry humor to Kore-eda's directing, which infuses this sparse movie with a genial charm and makes its moments of clarity all the more striking.
Watch This If You Like: Like Father, Like Son, Ordinary People, that meme of Andrei Tarkovsky clutching his forehead and declaring "poetic cinema."
Bareilly Ki Barfi – Netflix
Country: IndiaGenre: Romantic-comedyDirector: Ashwiny Iyer TiwariCast: Ayushmann Khurrana, Kriti Sanon, Rajkummar Rao.
Though supposedly based on the French novel The Ingredients of Love, this breezy Bollywood rom-com feels more like a fun riff of You've Got Mail. Better yet, it feels like the refreshing modern-day Cyrano de Bergerac reimagining that Sierra Burgess is a Loser wishes it was. Bareilly Ki Barfi follows Bitti (Kriti Sanon) an outspoken small town girl whose radical outlook has driven away all of her suitors — to the chagrin of her old-fashioned mother. Devastated after hearing her parents worry about her future, Bitti packs up one night to run away from home. But at the train station, she picks up a book titled that immediately grabs her attention and sends her hightailing back home. Upon realizing that the book, "Bareilly Ki Barfi," describes her personality perfectly, Bitti is determined to find the author and discover whether there are other likeminded women out there. Unbeknownst to her, the true author of the book is hiding in plain sight and orchestrates an elaborate deception to get closer to her. Whew, sounds like the recipe for trouble — and a weirdly elaborate set-up — right? While Bareilly Ki Barfi does stumble into some of the troubling pitfalls of the genre, its progressive heroine and charming love interests buoy the movie along. Hilarious misdirection and misunderstandings reign supreme in this small-town rom-com, which is as sugary sweet as its title (which is a type of Indian dessert) would have you believe.
What This If You Like: You've Got Mail, Chocolat, Bridget Jones' Diary, rom-coms being back, baby.
Bleach – Netflix
Country: JapanGenre: Action-fantasyDirector: Shinsuke SatoCast: Sota Fukushi, Hana Sugisaki, Ryo Yoshizawa, Erina Mano, Yu Koyanagi, Taichi Saotome, Miyavi, Seiichi Tanabe, Masami Nagasawa, Yosuke Eguchi.
What's that? A live-action adaptation of an anime that's actually good? I'm in as much disbelief as you, but I promise you that Netflix's live-action Bleach is enjoyable as hell. It may be because the story of the immensely popular anime series — in which an ordinary high school student who can see ghosts is transformed into a Soul Reaper to save his life from a malevolent spirit — is uniquely suited to a live-action adaptation. Or it may be that it's an all-Japanese production with no whitewashing to be seen. But I think it's because Bleach knows exactly what it is and revels in it: a campy, over-the-top action flick that delivers on both vibrant characters and ridiculous giant swords. When the anime Bleach debuted in 2004, it was met with immediate acclaim and went on to build a fascinating, rich world through its 300-plus episodes. But with only two hours to spare for his feature adaptation, director Shinsuke Sato smartly pares down the dense mythology into a superhero origin story of sorts. Our hot-headed hero Ichigo Kurosaki (leant an everyman likability by Sota Fukushi) is introduced to a fantastical world of reapers and soul-eating "hollows" when he is saved by Rukia Kuchiki (Hana Sugisaki), a stoic Soul Reaper who endows the high schooler with her powers. But while Bleach pays homage to many of our favorite moments in the anime, the film hones in on Ichigo's personal arc — making it accessible to both fans and non-fans alike.
Watch This If You Like: Bleach, Rurouni Kenshin, the original Japanese Death Note, anything but Netflix's Death Note.
High Fantasy – Amazon Prime
Country: South AfricaGenre: ComedyDirector: Jenna BassCast: Liza Scholtz, Francesca Varrie Michel, Qondiswa James, Nala Khumalo, Loren Loubser.
Found-footage movies are always a coin toss, and for a good amount of its run time, it's difficult to decide which side High Fantasy falls on. Is it an offbeat body-swap comedy set to the backdrop of a still-politicized South African setting? Or is it a pseudo-documentary that uses its found-footage conceit to proselytize the audience about race? Director Jenna Bass carefully toes the line between both in High Fantasy. High Fantasy follows a group of four teenagers who embark on a camping trip on the expansive lands belonging to the one white friend, Lexi (Francesca Varrie Michel). But one day, they wake up to discover that they have swapped bodies, setting the stage for tensions to come to a head in an inventive examination of race, gender, and the looming shadow of apartheid. Though the film sometimes veers so heavily into its white guilt that it threatens to become tedious, the bracingly authentic characters and the film's meandering story make High Fantasy an inspired take on the found-footage medium.
Watch This If You Like: Do The Right Thing, District 9, actually, most Spike Lee movies.
The Housemaid – Hulu
Country: VietnamGenre: HorrorDirector: Derek NguyenCast: Frederick Lau, Vicky Krieps, Marco Lorenzini, Pit Bukowski, Leo Folschette.
Not to be confused with the Korean erotic thriller of the same name, this 2016 Vietnamese film is Gothic horror with a post-colonial twist. Set in 1953 Indochina, The Housemaid follows an orphaned country girl named Linh who finds work at a haunted French rubber plantation. Frightened by the vengeful ghosts of tortured rubber workers and the former mistress of the house, Linh falls in love with the French landowner Captain Sebastien Laurent with whom she embarks on a steamy affair. But this whips the ghost of his dead ex-wife into a frenzy — or does it? The Housemaid is a serviceable, if somewhat amateurish, ghost story that doesn't try to do anything new with the genre, though its confidently creepy visuals and surprising plot twists will keep you entertained. The film comes as even more of a surprise because of the general lack of a Vietnamese film industry — The Housemaid is astonishingly well-made for an industry that mostly thrives on international backing and indie flicks. If The Housemaid is a sign of things to come for Vietnamese cinema, then it's bright indeed.
Watch This If You Like: Crimson Peak, Jane Eyre, Rebecca, basically every Gothic horror, you name it.