'Joker' Cast Adds Brett Cullen As Thomas Wayne, Replacing Alec Baldwin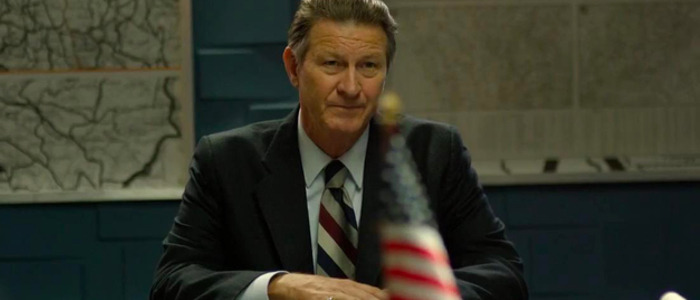 The standalone Joker movie has found its Thomas Wayne. Brett Cullen, a character actor who already has some Batman history, will play Bruce Wayne's father in the Todd Phillips film starring Joaquin Phoenix. Cullen replaces Alec Baldwin, who was first announced in the role only to immediately drop out. More on the Joker cast below.
ComicBook.com (with back-up from The Wrap)is reporting Cullen's casting as Batman's doomed dad, Thomas Wayne. As you'll no doubt remember, Alec Baldwin was the previous occupant of this part, but less than 48 hours after the announcement, Baldwin himself revealed he wouldn't be playing Thomas Wayne after all. "I'm no longer doing that movie," Baldwin said, citing scheduling issues. "I'm sure there are 25 guys who can play that part," the actor added.
One of those 25 guys turned out to be Brett Cullen, who has already appeared in a Batman-centric film before: he played a Congressman in Christopher Nolan's The Dark Knight Rises. Cullen also portrayed another superhero dad once: he was Barton Blaze, Johnny Blaze's father, in the Nicolas Cage Ghost Rider movie.
The Joker movie is currently filming, and we just recently got our first official (sans-make-up) look at Joaquin Phoenix in the lead role. Specific details about the film are under-wraps, but rumor has it Phoenix will be playing a failed comedian before becoming the Clown Prince of Crime – an origin previously revealed in Alan Moore and Brian Bolland's iconic, oft-referenced graphic novel Batman: The Killing Joke. The film has also been described as a "gritty character study" influenced by Martin Scorsese's The King of Comedy.
Just what part Thomas Wayne has to play in this story remains to be seen, but previous rumors indicated the character would be interpreted as a Donald Trump-like figure in the film. In the comics, Thomas Wayne and his wife Martha were gunned down in Crime Alley (great name!) before the eyes of their son, Bruce. Their murder would inspire Bruce to grow up and become Batman. You're probably familiar with this, since it's an origin story that has been retold on screen many, many times.
In addition to Phoenix and Cullen, the Joker standalone film also stars Robert De Niro, Zazie Beetz, Marc Maron and Frances Conroy. This entire project remains a bit baffling, and yet, this cast is too good to ignore. I remain unconvinced a solo Joker film can work, but I'll be happy to be proved wrong. The still untitled Joker movie laughs its way into theaters October 4, 2019.