Video: 'LOST' Live Concert Highlights, Featuring Michael Giacchino, Damon Lindelof, Carlton Cuse, And More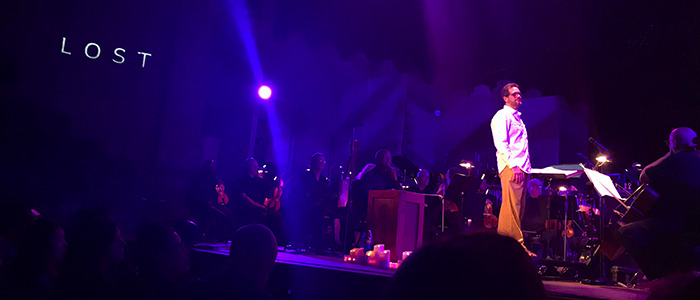 Nearly 14 years after the premiere of ABC's mega-hit drama LOST, showrunners Damon Lindelof and Carlton Cuse reunited at the John Ansin Ford Amphitheatre in Los Angeles this past weekend for We Have to Go Back: The LOST Concert 2018. They were on hand to introduce composer Michael Giacchino, arguably the most valuable player of the entire series. Giacchino conducted many of the show's most memorable songs over the course of the evening and even debuted a brand new track from the upcoming film Bad Times at the El Royale.
We've compiled some of the highlights from the event into a video below. Watch as surprise guest cast members read sections from the show's script, Lindelof and Cuse talk about their unorthodox practice of writing Giacchino's name into the episode scripts, and much more.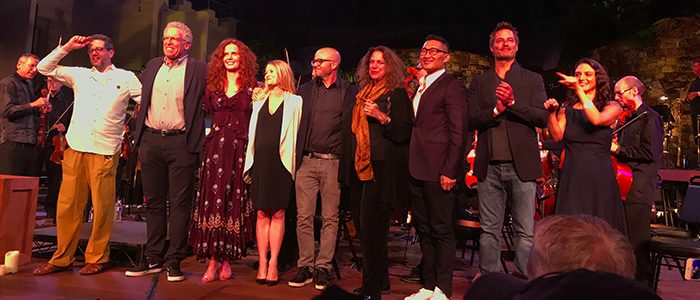 In addition to Giacchino, Lindelof, and Cuse, some surprise guests from the LOST family showed up to take part in a pre-show Q&A, including actors Josh Holloway (Sawyer), Emilie de Ravin (Claire), Daniel Dae Kim (Jin), Rebecca Mader (Charlotte), and Andrea Gabriel (Nadia). They each spoke briefly about what the show meant to them and how it changed their lives, and Lindelof talked about how the writers actively attempted to prevent ABC from ever rebooting the series once Lindelof and Cuse brought it to an end.
His explanation kicks off the video below, which also includes some readings from the actors – including Daniel Dae Kim reading some stage directions from one of the scripts, Josh Holloway reenacting a scene between Jack and Locke in "Man of Science, Man of Faith," and the most heartbreaking of the bunch, Emilie de Ravin reading Charlie's tragic death scene.
LOST Live Concert 2018 Highlights
This video can't possibly do it justice, but hearing Giacchino's music performed live – especially with imagery from the episodes projected on the walls simultaneously – is a tremendous experience that had me openly weeping in my seat. While the show is remembered for its mystery box elements, so much of that its success came from its heart-on-its-sleeve approach to genuine emotional storytelling, and the power of Giacchino's beautiful score can't be underestimated.
To single one moment out: the raft launch sequence in the season one finale is one of the most buoyant moments in TV history, and the soaring music that accompanies those images instantly jolted me back to the days and nights spent with those characters. My wife and I have now seen three LOST Live concerts in the past eight years, and if another one comes around again, we know exactly what we're going to do...we have to go back.
I'll leave you with this video, a new track from former LOST writer/producer Drew Goddard's upcoming film Bad Times at the El Royale, which arrives in theaters on October 12, 2018.