'Zombieland 2' Crawls Into Production In January, Director Ruben Fleischer Says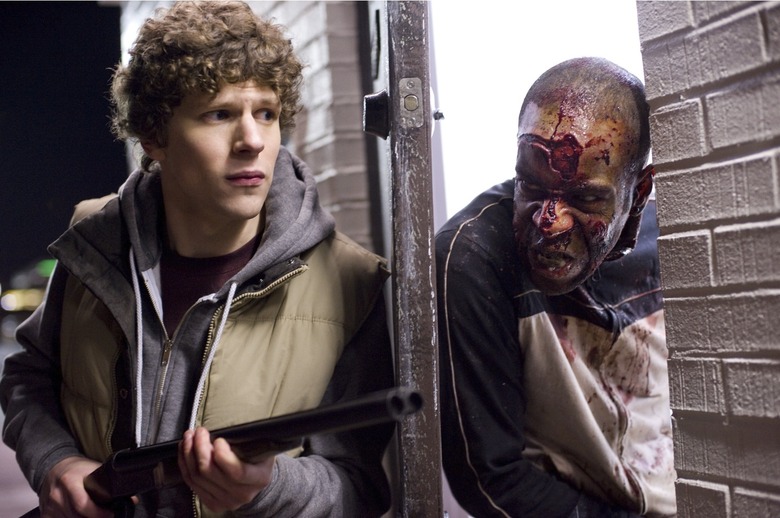 Zombieland 2 continues to creep along. The long-awaited sequel to the 2009 horror-comedy will go into production sometime in January 2019, according to director Ruben Fleischer who, alongside the original cast, will be returning to the sequel.
This will push the Zombieland sequel's release date past a planned 2019 anniversary release, as early reports had previously suggested. But after years of false starts and rumors, it seems like the sequel's production is finally kicking into gear.
In an interview with Fandango about his upcoming comic book movie Venom, director Ruben Fleischer talked about another franchise that he is set to resurrect. "I'm thrilled," said Fleischer about his plans to helm the upcoming Zombieland 2, adding:
"We're already actually starting Zombieland. I've been scouting and storyboarding and getting it going, and to get to work with that cast again is just an absolute dream come true. It's been really exciting starting to think about that movie, and to get to work with Emma, Jesse, Woody and Abigail once again is truly a dream come true. Yeah, we're just at the very early stages, but we have an amazing script, and we're going to start shooting in Georgia in January."
It seems that once the Venom press tour ends, Fleisher is jumping right into pre-production for Zombieland 2, with a script and cast already on hand. Original Zombieland writers Paul Wernick and Rhett Reese, who have gained notoriety recently with Deadpool and Deadpool 2, wrote the sequel.
Back in July, it was confirmed that Jesse Eisenberg, Woody Harrelson, Emma Stone, and Abigail Breslin are set to reprise their roles as Columbus, Tallahassee, and sisters Wichita and Little Rock, respectively. All four characters called each other by their respective home towns to preserve their identities from each other as they fled from a zombie apocalypse — though these strangers ended up embracing each other as a found family in the end.
In the new film, the quartet will reportedly travel from "the White House to the American heartland as they face off against new kinds of zombies that have evolved since the first movie, as well as some new human survivors." Set 10 years later, the as-yet untitled Zombieland 2 still remains a mystery — have the zombies overrun the world, or have their numbers dwindled in the past decade? Fleischer suggested that either is a possibility, adding that "It's been 10 years, so who knows what the world will look like at this point?"
Though the sequel is set to shoot in Georgia, I'd imagine the "heartland" is intended to be some vague Midwestern location with rolling hills and possibly a farm. It's a location we've seen in zombie flicks before — right back to the original Night of the Living Dead to the more recent The Walking Dead. But Zombieland is a satirical horror-comedy after all, and I could see Fleischer adding a fresh twist to a well-worn trope.
Sony still has Zombieland 2 scheduled for an October 11, 2019 release, but we'll have to see if that changes soon.