'Stan & Ollie' Trailer: The Untold Story Of The World's Greatest Comedy Act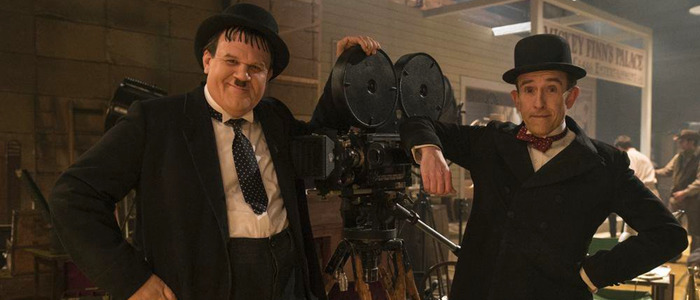 From the late 1920s through the mid-1940s, comedians Stan Laurel and Oliver Hardy rose to fame through their slapstick humor, appearing in 32 short silent films, 40 short sound films, and 23 full-length feature films. Now the Laurel and Hardy story gets the biopic treatment with Stan & Ollie, starring Steve Coogan and John C. Reilly as the legendary duo. Watch the Stan & Ollie trailer below.
Stan and Ollie Trailer
How do you do, fellow kids? See any good Laurel and Hardy flicker-shows at the nickelodeon? Stan Laurel and Oliver Hardy are comic legends, but I'm willing to bet that many filmgoers these days are unfamiliar with their slapstick antics. Thankfully, Stan & Ollie is here to change all that. Jon S. Baird, who helmed the Irvine Welsh adaptation Filth, directs the new biopic, and while you always run the risk of cheap impersonation when making a film like this, one thing is certain: Steve Coogan and John C. Reilly certainly have Laurel and Hardy's look nailed down. Both actors are almost unrecognizable here, fully embodying the famous comedians they're portraying.
Coogan and Reilly are very talented, and I'm very curious to see how they handle these parts. All I can hope for is that the film doesn't end up seeming like a by-the-numbers biopic, and instead brings real insight into the lives of these figures. In addition to Coogan and Reilly, Stan & Ollie stars Shirley Henderson, Danny Huston and Nina Arianda.
"Like so many others I grew up watching Laurel & Hardy and I'm therefore honoured to help bring this incredible true story of love, laughter and friendship to the big screen," Baird said when the film was first announced. Screenwriter Jeff Pope added:
"Stan Laurel and Oliver Hardy are my heroes...When I watch their movies, in my head it is forever a Saturday morning and I am six years old watching the TV at home utterly spellbound. I am aware of the huge responsibility of bringing their characters to life, but I have not treated the boys with kid gloves or looked at them through rose coloured specs. They are living and breathing characters, with flaws and shortcomings. The research into this story threw up so many details and facts that I had no idea about. But everything I have done has come from a place of love and more than anything else I hope this shines through."
Stan & Ollie will close out the BFI London Film Festival in October before finding its way to theaters in January 2019.
The true story of Hollywood's greatest comedy double act, Laurel and Hardy, is brought to the big screen for the first time. Starring Steve Coogan and John C. Reilly as the inimitable movie icons, Stan & Ollie is the heart-warming story of what would become the pair's triumphant farewell tour.
With their golden era long behind them, the pair embark on a variety hall tour of Britain and Ireland. Despite the pressures of a hectic schedule, and with the support of their wives Lucille (Shirley Henderson) and Ida (Nina Arianda) – a formidable double act in their own right – the pair's love of performing, as well as for each other, endures as they secure their place in the hearts of their adoring public.