'Bad Times At The El Royale' Featurette Scratches The Surface On The Film's Secrets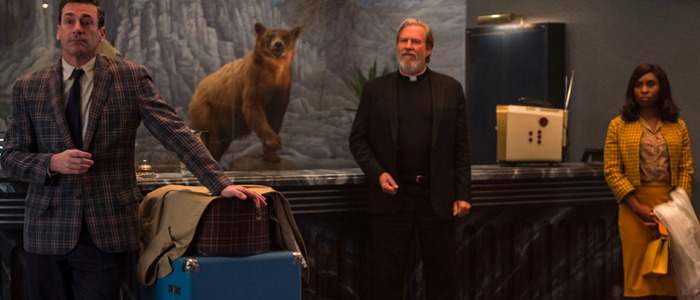 It's clear from the trailers so far that Bad Times at the El Royale is going to be loaded with twists and surprises. A new Bad Times at the El Royale plays the mystery factory up considerably, as the cast and crew vaguely talk about how wild and crazy everything is...without giving anything away. Watch the Bad Times at the El Royale featurette below.
Bad Times at the El Royale Featurette
Bad Times at the El Royale is the brainchild of Drew Goddard, director and co-writer of  The Cabin in the Woods. Much like that film, Bad Times appears to be the type of story where the less you know, the more fun you're going to have. The trailers have been enticing but mysterious, and this new featurette has the incredible cast – Jeff Bridges, Cynthia Erivo, Dakota Johnson, Jon Hamm, Cailee Spaeny, Lewis Pullman, Chris Hemsworth and more – discussing how incredible and surprising the film's script is.
"It was fresh, it was unique, it was full of drama," says Chris Hemsworth. "The more you start scratching at the surface, the more you find out it has a lot of secrets," adds Jon Hamm. Dakota Johnson makes things extra odd by claiming the movie is a "brutal love story", which the trails don't hint at at all. In short, there's a lot going on here. Director Drew Goddard goes on to say that the film is a true ensemble piece, and that all the characters have a complicated background, and ensures viewers that they "don't know where this movie is going to go."
In a previous interview, Cynthia Erivo offered some insight into the ensemble approach:
"It's so strange because it starts off almost singular – you meet them all by themselves. And then all of a sudden, they're in a group. Then they're split off and it's like pairs, and then they'll split off and then they're back in the group again. So they each have their moment where they're on their own, or in a pair, and then there's moments where it's all of them, the whole entire cast. I feel like because everyone's had the chance to be on their own, it gives that gravitas to the moments where everyone's together."
Bad Times at the El Royale arrives in theaters on October 12, 2018.
Seven strangers, each with a secret to bury, meet at a run-down hotel in Lake Tahoe in 1960s California. Over the course of a fateful night, they all get one last shot at redemption before everything goes wrong.