How Jake Gyllenhaal Inadvertently Helped Make Barry Jenkins' 'If Beale Street Can Talk' Happen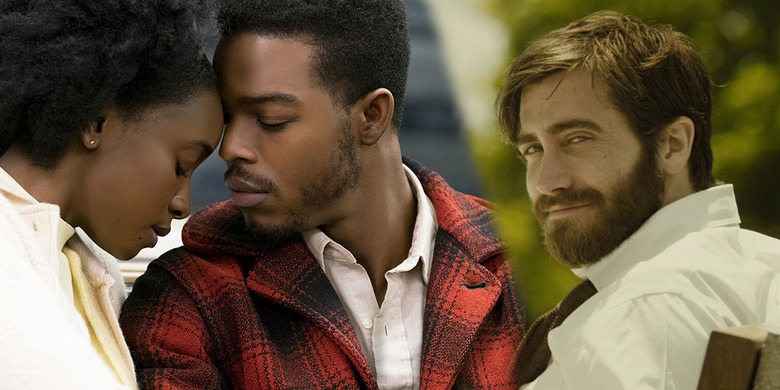 On top of being an uber-talented actor and the thinking girl's heartthrob, Jake Gyllenhaal has now ascended to becoming this fall movie season's behind-the-scenes hero.
Gyllenhaal made headlines earlier this summer for having a part in getting Jamie Lee Curtis to return as Laurie Strode for the Halloween reboot, which helped make it one of the most anticipated movies of the season. And now he's revealed to have helped get Barry Jenkins' adaptation of If Beale Street Could Talk to the big screen — and it happened almost by accident.
If Beale Street Could Talk is an adaptation of a novel of the same name by James Baldwin, a celebrated American author whose estate is notoriously selective when it comes to selling story rights. But in an interview with the Los Angeles Times, the Moonlight director revealed that noted "big Baldwin fan" Gyllenhaal helped tip the scales in Jenkins' direction.
"[Gyllenhall] had been talking to the estate, went through the channels and got them to respond to his queries about another project," Jenkins said. "And then I just happened to write them a letter, literally, the next day."
At the time, Jenkins had only one credit to his name — his directorial debut Medicine for Melancholy — and had not yet become an Oscar winner for his acclaimed film Moonlight. With both Gyllenhaal and Jenins' packages under consideration, the Baldwin estate decided to take a closer look at the unknown, Jenkins said:
"A woman at the estate — not Baldwin's sister Gloria Karefa-Smart, who runs it — but the woman who runs all the official documentation, she said, 'Well, I felt kinda bad because we were listening to Jake Gyllenhaal and we don't ever want to be the kind of estate that only listens to famous people' — I was nobody at the time — 'so when your package came through, we were like, 'We might as well listen to this guy named Barry Jenkins.'"
We all know where it goes from there. Jenkins becomes one of Hollywood's most in-demand filmmakers after the success of the breathtaking Moonlight, and delivered another masterpiece this year with the festival favorite If Beale Street Could Talk. And Gyllenhaal gets to help out another minority in the movie business, after urging Jamie Lee Curtis to board the Halloween reboot earlier this year. So it's official: this fall is the season of witches and Jake Gyllenhaal.
If Beale Street Could Talk opens in theaters on November 30, 2018.