'Maniac' Early Buzz: Critics Are Universally Crazy About Emma Stone, But Mixed On Netflix's Sci-Fi Series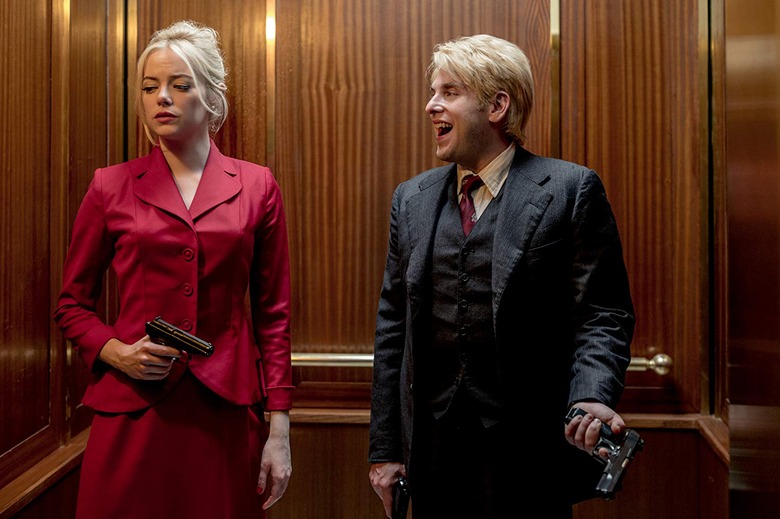 True Detective visionary Cary Fukunaga, Oscar winner Emma Stone, and Oscar nominee Jonah Hill seems like a dream team that could turn any collaboration into a smash success. But unfortunately, it seems that their darkly comic sci-fi series, Maniac, is more of a mixed bag.
Based on the Norwegian TV series of the same name, Maniac is a Netflix miniseries directed by Fukunaga and starring Stone and Hill as two strangers who meet an experimental drug trial and end up navigating a slew of vibrant alternate realities in their minds. Throw any of those elements into a blender, and it would seem like you would have a surefire hit. But the Maniac early buzz, while glowing about Stone's performance, seems to suggest that this is the problem — the miniseries feels like a blended mess of tones and stories.
Here is what critics are saying about Maniac.
Variety gushes over Stone's "supreme control over her character. She's not just absent of vanity, but inventive and curious about what a performer can reveal, and how she can reveal it," before lauding the series itself as "among the year's best TV":
Under the guidance of "True Detective's" Season 1 director Cary Joji Fukunaga, Stone and her co-star Jonah Hill mark career highs in "Maniac." Created and written by Patrick Somerville, the beautifully made "Maniac" plunges viewers into a fictional world that's both divergent from our own and instantly recognizable — and then reinvents itself several times over, skittering across time, space and genre to tell a story of connection that feels urgent and deeply, painfully human.
Indiewire was equally complimentary of Stone's performance, calling her "brilliant" even as the series itself is "a visual spectacular handcuffed by its own big ideas":
To that end, "Maniac" is a lot like its scientists. Academic and alienating yet surprisingly grounded, the miniseries should inspire many hot takes, term papers, and devout study of its visual prowess. For those looking to study a TV show, look no further. For those looking to fall in love, well, there's no pill for that.
Collider is also mixed on the series, calling it a "spectacle" that can "often feel like watching someone else's dream":
But whereas the overall vision of Maniac seems messy, it can be beautiful in its details. The script is uneven, but when it lands it does so with panache ("You left us here to complete your life's work while you were copulating with software!") The way that Japanese influences permeate everything in the lab (and outside of it) is very unique to a sci-fi story like this, as are the aforementioned analogue details. A tiny, faceless robot that cleans up the sidewalks is somehow one of the most compelling characters. Visually, Fukunaga also manages to find a lot of humor with his camerawork, and there is a hint of satire in the larger world with a service called Ad Buddy that pays for small-ticket items after you watch a host of ads — something that is essentially already in play today.
Radio Times was a little more positive, describing Maniac as a "comically bleak vision of the world – with a glimmer of hope," adding:
The show's biggest problem is a relatively unique one for a Netflix show: it left me wanting more. Much more, in fact.
That's not to say that there should be another series, but the ending, which arrives after a dizzying melee of fantasy and reality, felt rushed and had me ruing the time we were forced to spend with dream-state versions of our characters over their, infinitely more interesting, real-world selves.
However, Entertainment Weekly was the harshest on Maniac, arguing that the miniseries "fails on every reality."
Maniac is as much fun as getting your head examined. The miserable Netflix miniseries, debuting Sept. 21, could only have been made in 2018. Movie stars, elaborate set pieces, a big-looking budget, indescribable concept, every genre imaginable wrapped up into a sci-fi fantasy romcom dramedic spoof plus feels: Think how far TV had to evolve to produce ponderous dreck like this. Years ago, we complained how networks sanded away all their project's sharp edges. Now, unfettered creative freedom shall bestow upon us a misshapen behemoth of unconditional sharpness.
Though the critics are divided on its effectiveness, there's no question that Maniac is a visual spectacle. Fukunaga has proved himself to be a truly visionary director, raising True Detective up as the pinnacle of Southern Gothic storytelling while proving he has a handle on the wild dream world of Maniac. But the story by Patrick Somerville is where critics are divided — over whether the show lands all its big ideas or buckles under the weight of its ambitions.
Critics also seem divided over everyone's performances except for Stone's — some call Hill at a career-peak, while others say he struggles in comparison to Stone. Justin Theroux also earns some praise as the doctor leading the experiment, though Sonoya Mizuno is burdened by an unusually staid scientist character.
Overall, it seems like the reception for Maniac is mixed. The high-concept sci-fi series falls flat under its ambitions, but is elevated by a masterful performance by Stone.
Maniac is set to premiere on Netflix on September 21, 2018.