'The Predator' Box Office On Track To Beat All Previous 'Predator' Films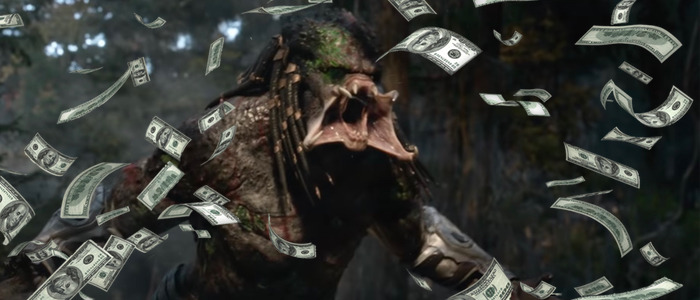 Things are looking up for The Predator. Despite some so-so reviews and a general controversy surrounding the film, Shane Black's sequel is on track to rake in more dough in its opening weekend than all the previous Predator films. More on The Predator box office below.
The Predator hasn't been having the best few days. After premiering at TIFF, the sci-fi sequel sits with a woeful 37% on Rotten Tomatoes. In addition to that, the film has been mired in controversy since it was revealed that director Shane Black cast a registered sex offender in a small part. Star Olivia Munn took this info to Fox and his scene was cut, but she was then seemingly shunned by her fellow cast members for several days (Sterling K. Brown was first to eventually tweet his support for Munn, followed by Boyd Holbrook. Black has since apologized for his casting decision).
Despite all this, early Predator box office tracking is healthy. Variety reports the film is expected to win the weekend at the box office, taking in somewhere between $25 million and $32 million. If The Predator hauls in over $25 million, it will officially earn the distinction of having the best opening weekend for a standalone Predator film yet (Alien vs. Predator had a $38 million opening). The previous Predator record holder was 2010's Predators, which earned $24 million over its opening weekend.
The first Predator earned $12 million during its opening, but that was back in 1987 – it's close to around $25 million when you adjust for inflation. Predator 2 only earned $8 million during its opening (about $16 million adjusted for inflation). In short, The Predator will likely do well at the box office, but it probably won't be a massive blockbuster.
I found The Predator to be mostly entertaining – it's surprisingly funny; more of a comedy than anything else. That said, the film really falls apart in the third act, and the controversy surrounding the film has soured me on it completely. I have no desire to ever see it again, but your mileage may vary.
The Predator opens on September 14, 2018.
The Predator 
From the outer reaches of space to the small-town streets of suburbia, the hunt comes home. The universe's most lethal hunters are stronger, smarter and deadlier than ever before, having genetically upgraded themselves with DNA from other species. When a boy accidentally triggers their return to Ear

th, only a ragtag crew of ex-soldiers and an evolutionary biologist can prevent the end of the human race.