'Venom' Officially Rated PG-13, Could Open Between $60M-$70M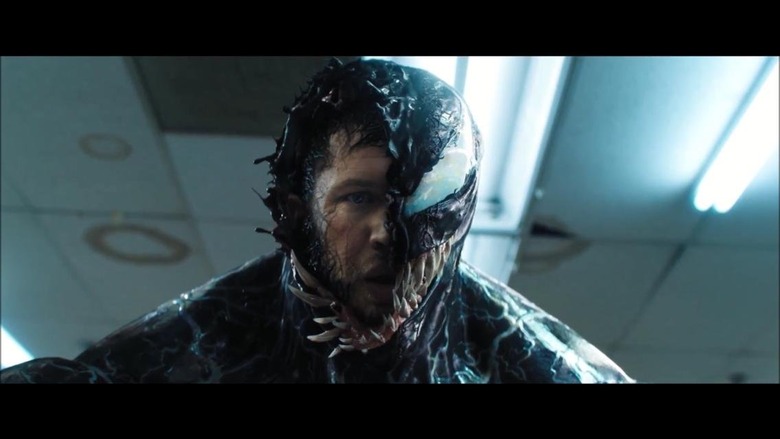 One of the central questions about Sony's Venom movie has been about its rating, and now the answer has officially arrived: Venom is going to be PG-13.
Also, some new box office tracking numbers have arrived and have zeroed in on how the film might perform during its opening weekend. If these numbers are correct, Tom Hardy's anti-superhero movie is about to break a box office record.
Early reports about this Venom film presented the project as an R-rated movie with elements of sci-fi and horror mixed in. The prospect made some sense in the wake of the mega-success of Fox's R-rated take on Deadpool, but Erik Davis from Fandango reports that the Venom rating is officially PG-13, confirming rumors from about a month ago, and Davis relays word from "studio sources" about why that decision was made:
#Venom is officially rated PG-13. Hearing from studio sources the reason is so that Venom and Spider-Man can face off at some point down the line. If the movie is R, it's hard to do that. pic.twitter.com/dBZzgY18k3

— Erik Davis (@ErikDavis) September 13, 2018
It appears that Sony is keeping its options open when it comes to potential crossover between its Sony Marvel Universe and Marvel Studios' Marvel Cinematic Universe. Now all eyes are going to be on director Ruben Fleischer's take on the alien symbiote to see if Venom in the MCU is something fans would even want to see. Personally, I can't really picture Tom Hardy mumbling his way through a scene next to Benedict Cumberbatch's Doctor Strange or Chadwick Boseman's Black Panther, but Sony execs may have more faith that Hardy will fit in with the more traditional heroes (or, more likely, that Tom Holland's Spider-Man could make an appearance in a Venom sequel).
Meanwhile, Deadline reports that updated tracking numbers for Venom have arrived, and that the movie is now aiming for an opening weekend somewhere between $60M-$70M. The earliest tracking suggested an opening between $30M-$50M; that was updated to $55M-$85M estimate, and now analysts are dialing in as we approach the film's release date. If it does indeed open with anywhere between $60M-$70M, that would put Venom atop 2013's Gravity as the movie with the highest-grossing opening weekend in October history. (Gravity currently holds the record with $55.7M.)
These predictions are still relatively early, and as we saw earlier this summer with Solo: A Star Wars Story, a big budget tentpole film like this experiencing an underwhelming opening is a very real possibility. Personally, I was expecting this to bomb, but with a record-breaking opening on the horizon, I keep coming back to screenwriter William Goldman's famous quote: "Nobody knows anything...Not one person in the entire motion picture field knows for a certainty what's going to work. Every time out it's a guess and, if you're lucky, an educated one."