'Westworld' Season 3 Adds 'Breaking Bad' Star Aaron Paul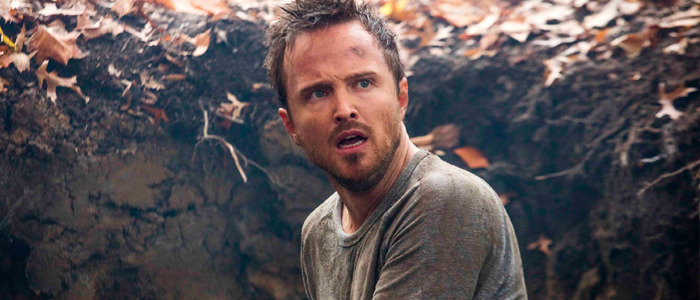 Westworld season 3 may have just gotten a lot more interesting.Aaron Paul, who broke out in AMC's Breaking Bad and has since gone on to star in shows like Netflix's BoJack Horseman and Hulu's The Path, has officially joined the cast of HBO's high-profile sci-fi show for its third season. Read more about the Westworld Aaron Paul casting below.Deadline brings the news about Paul's addition, saying that while the producers won't reveal details about the actor's role on the show, he'll be a new series regular. We expect him to be a significant factor in the new season, which will be radically different from the two seasons that came before it. Spoilers ahead for season 2, but the finale left the show in an entirely new place, with Evan Rachel Wood's Dolores inhabiting the body of a host robot recreation of Tessa Thompson's character Charlotte Hale and the action seemingly moved out of the parks as the hosts infiltrate the "real world."
Will Paul be playing a human or another of Delos's android creations? We have no clue, but feel free to speculate wildly until more info about his character comes to light. Either way, I'm hoping he'll provide the show with a jolt of energy...or at least some lasting empathy. Jesse Pinkman, the most famous character of Paul's career, began Breaking Bad as something of a joke but ultimately grew to become the soul of the series, and his incredible performance that mixed humor and heart was a huge reason for that.
I found the second season of Westworld to be a supremely frustrating piece of television storytelling, and desperately wish the showrunners Jonathan Nolan and Lisa Joy would just tell a straightforward narrative without trying to pull the rug out from under their audience and "blow our minds" with last-minute reveals. The show's characters have never been easy to invest in, so maybe having someone like Paul on board will provide a good re-entry point after a season that left many people wondering what the heck was even happening anymore. I pretty much swore off this show after the second season, but damn it – Paul's presence just might be enough to suck me back in.
Westworld will return to HBO, but Nolan and Joy have been coy about exactly when that will happen. They've said there would be "a bit of a wait" for the third season, which could mean it won't air until 2020.