'NOS4A2' TV Series Cast Adds Zachary Quinto And Ashleigh Cummings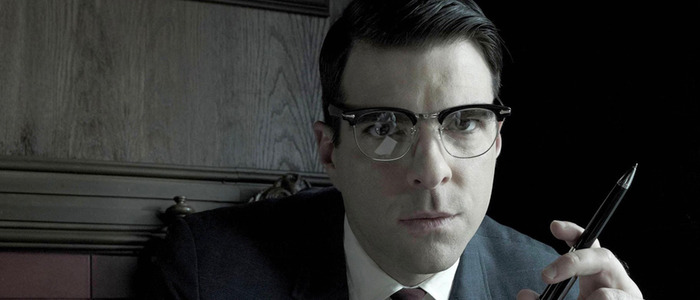 Joe Hill's NOS4A2 (pronounced Nosferatu) is coming to the small screen. AMC will turn Hill's horror novel into a new TV series, and they've added Zachary Quinto and Ashleigh Cummings to the cast. The story concerns a supernatural figure who feeds on the souls of children. More on the NOS4A2 TV series below.
NOS4A2 is a creepy tale of terror from Joe Hill, son of Stephen King. It works pretty well as a novel, but I'm not sure how you could turn it into a TV series without making some big changes. I'll leave that up to AMC, though, as they move forward with their NOS4A2 TV series. The show has added its two main cast members. Zachary Quinto will play Charlie Manx, the antagonist at the heart of the story. Manx is described a "a seductive immortal who feeds off the souls of children, then deposits what remains of them into Christmasland – an icy, twisted Christmas village of Manx's imagination where every day is Christmas Day and unhappiness is against the law."
Ashleigh Cummings, who appeared in the excellent and disturbing horror film Hounds of Love, will play Vic McQueen, "a young, working-class artist whose creativity awakens a supernatural ability to track Manx. What Vic lacks in social confidence, she makes up for in courage, humor, and tough-as-nails grit. She strives to defeat Manx and rescue his victims without losing her mind or falling victim to him herself."
This already sounds a bit different from the book, which has Vic as the lone person to escape from Manx's clutches. The book also has Vic's son targeted by Manx, but Cummings is much younger than the Vic in the book, so they might be deleting the son storyline completely. Here's the book's synopsis for reference:
Victoria McQueen has a secret gift for finding things: a misplaced bracelet, a missing photograph, answers to unanswerable questions. On her Raleigh Tuff Burner bike, she makes her way to a rickety covered bridge that, within moments, takes her wherever she needs to go, whether it's across Massachusetts or across the country.
Charles Talent Manx has a way with children. He likes to take them for rides in his 1938 Rolls-Royce Wraith with the NOS4A2 vanity plate. With his old car, he can slip right out of the everyday world, and onto the hidden roads that transport them to an astonishing – and terrifying – playground of amusements he calls "Christmasland."
Then, one day, Vic goes looking for trouble—and finds Manx. That was a lifetime ago. Now Vic, the only kid to ever escape Manx's unmitigated evil, is all grown up and desperate to forget. But Charlie Manx never stopped thinking about Victoria McQueen. He's on the road again and he's picked up a new passenger: Vic's own son.
Jami O'Brien, a producer and writer on Fear the Walking Dead and Hell on Wheels, will serve as executive producer and showrunner on NOS4A2. "As a huge fan of Joe Hill's rich, imaginative, and exciting book, I am over the moon to be working with such a phenomenal cast and creative team on this special project," said O'Brien.
Other cast members include Olafur Darri Olafsson as Bing Partridge, one of Manx's henchmen; Virginia Kull as Linda McQueen and Ebon Moss-Bachrach as Chris McQueen, Vic's parents; and Jahkara Smith as Maggie Leigh, a librarian with similar abilities as Vic.
The 10-episode series will premiere on AMC in 2019.