Now Stream This: 'McCabe & Mrs. Miller', 'Revenge', 'Hamlet', 'They Came Together', And More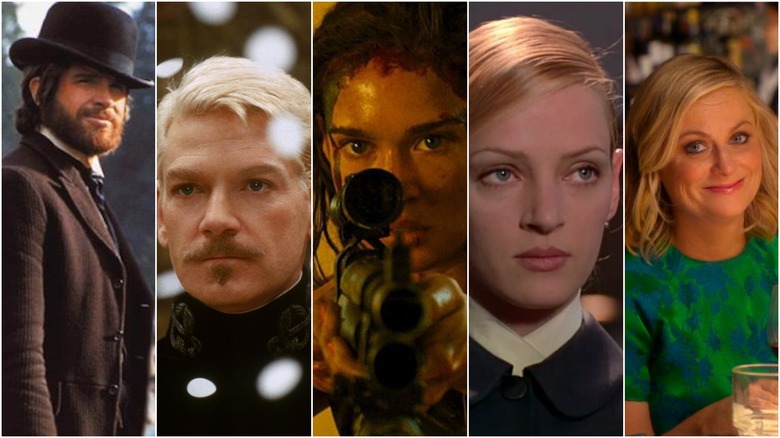 (Welcome to Now Stream This, a column dedicated to the best movies streaming on Netflix, Amazon, Hulu, and every other streaming service out there.) 
Another edition of Now Stream This is here to offer you a smorgasbord of streaming options! Be honest – you don't want to leave your house. You want to stay inside and watch movies without getting up off the couch. If you find yourself in this situation, but remain uncertain about just what to watch, this column is here to help. In this edition, we have an anti-Western from Robert Altman, a brutal revenge flick, a Shakespeare adaptation that runs over 4 hours, a rom-com parody, and more.
These are the best movies streaming right now. Let's get streaming.
The Best Movies Streaming Right Now
1. McCabe and Mrs. Miller
Now Streaming on FilmStruck
Release Date: 1971
Genre: Anti-Western
Director: Robert Altman
Cast: Warren Beatty, Julie Christie, Shelley Duvall, Keith Carradine
Robert Altman's anti-Western stars Warren Beatty, Julie Christie and a whole lot of mud and snow. Set in 1902, the film follows a gambler (Beatty) who opens a brothel in a mining town. He teams with a prostitute (played by Christie) to make this idea a reality, and the two enjoy a partnership with a certain sexual attraction. All goes well for a while, but problems arise, and the successful sex work business McCabe and Mrs. Miller have built is in danger of crumbling. Like most Altman films, McCabe and Mrs. Miller features overlapping dialogue and a shaggy-dog atmosphere. With moody songs by  Leonard Cohen and hazy yet gorgeous cinematography from Vilmos Zsigmond, this is unlike any Western you've seen before.
For fans of: The Long Goodbye, Heaven's Gate, Solo: A Star Wars Story, Warren Beatty wearing a giant fur coat.
Now Streaming on Shudder
Release Date: 2018
Genre: Nasty Thriller
Director: Coralie Fargeat
Cast: Matilda Lutz, Kevin Janssens, Vincent Colombe, Guillaume Bouchède
Coralie Fargeat's Revenge is one of the most unrelentingly violent films you'll ever see. It's also incredible – a stylish pop culture nightmare; a Roy Lichtenstein print with a body count. Visually stunning and narratively nasty, Revenge finds a young woman (Matilda Lutz, incredible here) in the fight for her life after her lover and his two brutish friends leave her for dead. Suffering horrific injuries, Lutz's character seemingly rises from the dead to enact bloody, brutal revenge on the horrible men who've done her wrong. Revenge isn't going to be for everyone – it's constant, over-the-top bloodshed might be too much to handle. But make no mistake: this is a major work from a filmmaker worth paying attention to.
For fans of: I Spit On Your Grave, Ms. 45, The Last House on the Left, an alarming amount of spilled blood.
Now Streaming on FilmStruck
Release Date: 1996
Genre: Shakespeare!
Director: Kenneth Branagh
Cast: Kenneth Branagh, Derek Jacobi, Julie Christie, Kate Winslet
Kenneth Branagh's glorious, swooning, over-the-top adaptation of Hamlet is the only film version to use Shakespeare's complete text. As a result, the film runs just over four hours, which might seem a bit overwhelming, but trust me: this movie is wonderful. Some of Branagh's casting borders on ludicrous (Billy Crystal plays the gravedigger!), but the director finds such a unique visual style for the film, coupled with an apologetically theatrical atmosphere. Shot in beautiful 70mm, Hamlet looks incredible, and that visual splendor is aided by fantastic performances, particularly Kate Winslet as poor, doomed Ophelia. Is this the best film version of Hamlet? I think it just might be.
For fans of: Dead Again, Mary Shelley's Frankenstein, anything written by that Shakespeare fellow – you might have heard of him.
Now Streaming on Shudder
Release Date: 1997
Genre: Sci-Fi
Director: Andrew Niccol
Cast: Ethan Hawke, Uma Thurman, Jude Law, Loren Dean, Ernest Borgnine, Gore Vidal, and Alan Arkin
Andrew Niccol's somber, romantic sci-fi film Gattaca is set in a future where eugenics has made most of society genetically perfect. There are a handful of folks who remain "impure", and find themselves ostracized by society. One such person is Vincent, played by great actor and self-proclaimed Logan hater Ethan Hawke. Despite his "in-valid" status, Vincent dreams of working at the illustrious Gattaca Aerospace Corporation and finding a way off the planet. To do so, he decides to impersonate Jerome (Jude Law, right before his career really blew up), a perfect specimen who just happens to be confined to a wheelchair. Things are going well for Vincent, until a murder at Gattaca threatens to expose his secrets. Featuring a unique, abstract design and a hauntingly lovely score by Michael Nyman, Gattaca isn't your typical science fiction film.
For fans of: Arrival, Equals, The Truman Show, special cameo appearances from Gore Vidal.
Now Streaming on Hulu
Release Date: 2014
Genre: Comedy
Director: David Wain
Cast: Paul Rudd, Amy Poehler, Cobie Smulders, Christopher Meloni, Max Greenfield, Bill Hader, Ellie Kemper, Jason Mantzoukas, Melanie Lynskey, Ed Helms
An absolutely ridiculous parody of romantic comedies, They Came Together tells the story of two New Yorkers – Paul Rudd and Amy Poehler – who fall for each other. It sounds like your standard rom-com, and that's the point. Director David Wain and cowriter Michael Showalter take the familiar set-up and turns it upside down, creating a surreal, absurd film with a ton of laugh-out-loud funny moments. You already know that Rudd and Poehler are funny people, and they work exceptionally well together here.
For fans of: Wet Hot American Summer, Stella, The Ten, fiction books.
Now Streaming on Amazon Prime Video and Hulu
Release Date: 2017
Genre: Biographical Drama
Director: David Gordon Green
Cast: Jake Gyllenhaal, Tatiana Maslany, Miranda Richardson, Clancy Brown, Jessica Lundy
Stronger didn't make much of an impact with general audiences when it arrived in 2017, and that's a shame, because it's a powerful film. Based on the true story of Jeff Bauman, who lost both his legs in the Boston Marathon bombing, Stronger has Jake Gyllenhaal delivering a stirring, emotional performance as Bauman. We follow the man as he adapts to his new situation, and struggles with PTSD. It would've been very easy for director David Gordon Green to turn this into a hagiography; the type of film that sanitizes Bauman's life and turns him into a saint. Instead, Stronger takes pains to show how flawed Bauman is, and how terrible his journey was. Gyllenhaal is aided by co-star Tatiana Maslany, turning in great work as Bauman's girlfriend.
For fans of: The Fighter, Joe, Undertow, Boston accents.
Now Streaming on Amazon Prime Video
Release Date: 2015
Genre: Horror
Director: Marcin Wrona
Cast: Itay Tiran, Agnieszka Zulewska
The Polish horror film Demon came with considerable baggage: director Marcin Wrona killed himself while the movie was still on the festival circuit. The director's death lends an extra eerie quality to the film, which is about a man seemingly losing his mind at his wedding. The man (Itay Tiran) keeps spotting a ghostly woman in the crowd of the wedding reception – a woman no one else can see. Is she really there, haunting him? Or is he just going crazy? As the wedding night unfolds, the Tiran's character suffers seizures and behaves in an uncontrollable, unpredictable manner, making the entire film uneasy and unsettling.  Disturbing, creepy and featuring often beautiful cinematography, Demon is a horror film you can't shake off.
For fans of: Rosemary's Baby, Compulsion, Possession, uncomfortable weddings.
Now Streaming on Netflix
Release Date: 2015
Genre: Drama
Director: Michael Almereyda
Cast: Peter Sarsgaard, Winona Ryder, Taryn Manning, Kellan Lutz, Anton Yelchin, John Leguizamo, Lori Singer, Dennis Haysbert, Anthony Edwards, and Jim Gaffigan
Experimenter tackles the true story of social psychologist Stanley Milgram, who ran a series of radical experiments in which he made subjects believe they were administering painful electric shocks to others. Milgram was trying to test how and why people are so quick to follow orders, even if those orders result in harm to others. It was a fascinating idea, but it lead to controversial reactions, with many criticizing Milgram for deceiving his subjects.  This is dark stuff, but Experimenter has a surprisingly playful vibe to it. Peter Sarsgaard is droll and charming as Milgram, who often breaks the fourth wall to deliver pointed observations to the audience. Director Michael Almereyda brings a unique visual style to the proceedings, employing rear-projection and surreal elements to lend an otherworldly atmosphere to the entire story.
For fans of: Kinsey, Shattered Glass, Professor Marston and the Wonder Women, Kellan Lutz playing William Shatner.
Now Streaming on Amazon Prime Video
Release Date: 1996
Genre: Fantasy
Director: Rob Cohen
Cast: Dennis Quaid, David Thewlis, Pete Postlethwaite, Dina Meyer, and Sean Connery
A dragon hunter and a dragon team-up in DragonHeart, Rob Cohen's loopy fantasy epic featuring some impressive CGI...for 1996, that is – now it looks clumsy. Dennis Quaid is the dragon hunter, a man boiling with rage and resentment after one of his students turned into a tyrannical king. Sean Connery voices the dragon, whom Quaid blames for the king's villainy. At first enemies, the two decide to start running an elaborate scam together – the dragon will swoop into a village and terrify everyone, Quaid will then ride in and offer to "slay" the dragon – for a fee. Honestly, I wish this human/dragon con-artist story were the entire movie. But since DragonHeart was attempting to appeal to a wider audience, the film also features a fantasy-epic plot involving swords, magic and mysticism. But the awkward friendship between Quaid and Connery's dragon is the real draw. And Randy Edelman's soundtrack is pretty damn good as well.
For fans of: Willow, Reign of Fire, Excalibur, Scottish dragons.
Now Streaming on Netflix
Release Date: 2008
Genre: Indie comedy
Director: Christine Jeffs
Cast: Amy Adams and Emily Blunt
On one hand, Sunshine Cleaning suffers from several inexcusable indie movie cliches – the ho-hum camera placement, quirky characters, and so on. On the other hand, this is a film that stars Amy Adams and Emily Blunt as sisters cleaning up crime scenes. That's too enticing to ignore. Whatever Sunshine Cleaning's flaws, it more than makes up for them with the presence and performances of Adams and Blunt, two of the best actresses working today. Adams is particularly wonderful as warmer of the two sisters. As the film unfolds, the very different sisters grow closer, all while scrubbing down blood-drenched crime scenes. It's a curious blend of comedy and the macabre, and it makes for a (mostly) memorable film.
For fans of: Junebug, Jeff Who Lives at Home, Rachel Getting Married, Amy Adams and Emily Blunt doing stuff together.