Kevin Smith's Weight Loss Sparks 'Jay And Silent Bob Reboot' Rewrite, Name Change Of Popular Podcast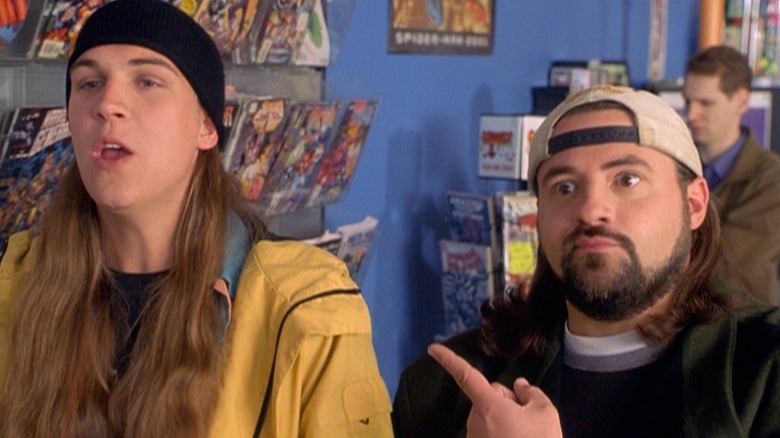 In 1994's Clerks, writer/director Kevin Smith introduced the world to Silent Bob, an overweight and quiet goofball played by Smith himself. Silent Bob has appeared in multiple movies so far, often alongside a stoner named Jay (Jason Mewes), who would lovingly poke fun at his friend's weight.
Smith experienced a near-fatal heart attack earlier this year and has thankfully bounced back, but he's lost a ton of weight in the process – so Silent Bob is no longer the overweight guy he once was. This change has sparked a rewrite of his upcoming movie Jay and Silent Bob Reboot to reflect the character's new look, and Smith has also changed the title of one of his popular podcasts for a similar reason. Learn more about both below.
Jay and Silent Bob Reboot Rewrite
Smith explained the reason for the Jay and Silent Bob Reboot rewrite on a recent episode of his Fatman on Batman podcast (via ComicBook.com):
"That three-day, four-day weekend whatever the f–ck it was, all my work was done. Then I was like manufacturing work for myself, so I went and did another draft of Jay and Silent Bob Reboot. This is the eighth draft of the script and at this point, it's weird, this is the draft where I had to take out all the fat jokes 'cause they just don't make sense anymore."
The film is a sequel to 2001's Jay and Silent Bob Strike Back, and Smith previously described the new movie like this:
"In Jay and Silent Bob Reboot, Jay and Silent Bob find out that Hollywood is making a reboot of that old movie that they had made about them, and they have to go across the country to Hollywood to stop it all over again. it's literally the same f—ing movie all over again. It's a movie that makes fun of sequels and remakes and reboots while being all three at the same time."
Smith developed something of a contentious relationship with critics over the past decade or so, but he seems like a genuinely good guy who never takes his position for granted and he's a hell of a public speaker, so I'm glad he's still around to entertain his fans. (He also built his own cinematic universe before that concept was all the rage in Hollywood, so extra props for that.) Like many people my age, Smith's work was important to me in high school, where I was introduced to films like Clerks, Chasing Amy, Dogma, and Mallrats. I've also appreciated some of the chances he's taken later in his career with projects (Red State, I'm lookin' at you), even though I haven't connected with many of his more recent movies.
Smith's Podcast is Getting a New Title
Oh, and speaking of the Fatman on Batman podcast – that show is now being officially rebranded with a new title: Fatman Beyond, a nod to the animated series Batman Beyond. Dropping the name "Batman" from the show sounds like it was a strategic move to avoid any potential legal action from Warner Bros. in the future, but it also factors in Smith's more svelte look these days:
"The next live show, we're going to do on Batman Day, which is September 15. Mark your calendars: that will be the official launch of Fatman Beyond, which as a title I think works on a couple of different levels. Not only is it a nod to the Batman universe which of course spawned this show, but it is 'Fatman, Beyond.' Not just like, hey, he's beyond a fat man now, or something like that, but it started as one thing and it's gone beyond that, it's become something different."
Current subscribers to the show, which Smith co-hosts with writer Marc Bernardin, won't need to resubscribe – new episodes will arrive in the same RSS feed and won't be renumbered.
"This is like going on a final date with your boyfriend and/or girlfriend before you go off to college," Smith said. "It just feels like the right time, but it is kind of weird to see the end of one era."