'Marvel Rising: Secret Warriors' Trailer: Meet Marvel's Most Diverse (Animated) Team Ever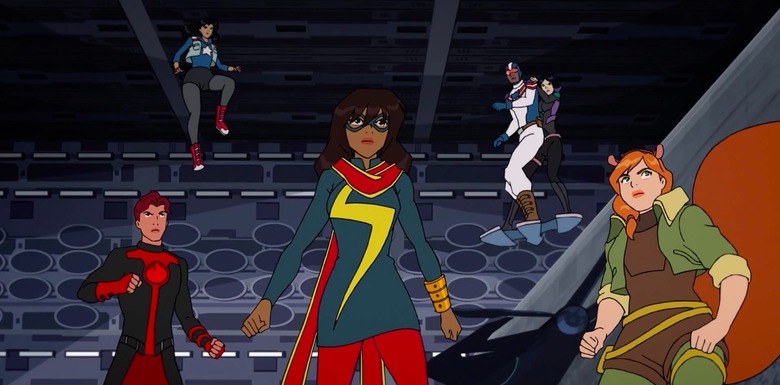 You don't have to wait for the 5th or 6th phase of the Marvel Cinematic Universe to meet the new generation of Marvel superheroes — they're already here. Marvel Rising: Secret Warriors introduces a new group of superpowered teens that make up Marvel's most diverse onscreen team yet.
Disney Channel's Marvel Rising franchise introduced young audiences to fan-favorite comic book characters through comics and animated prequel shorts, but now takes things a step further with an 80-minute animated film. Lead by the beloved heroes Squirrel Girl and Ms. Marvel, Marvel's most diverse team yet makes its debut in the Marvel Rising: Secret Warriors trailer.
Marvel Rising Secret Warriors Trailer
Fan-favorites Ms. Marvel and Squirrel Girl lead a team that include Quake, Patriot, America Chavez, and Inferno in the animated Disney Channel feature film. These spunky aspiring heroes are united through their admiration of Captain Marvel (who will make her big-screen debut as played by Brie Larson in 2019's Captain Marvel) to form a new "unofficial" super-team: the Secret Warriors.
Along with Pakistani-American Ms. Marvel (Kathreen Khavari) and the part-squirrel computer genius Squirrel Girl (Milana Vayntrub), Secret Warriors promises to be the most diverse team that Marvel has ever had onscreen (and about time, too). Quake, a teen who can produce earth-shaking vibrations, has been reimagined to be Asian-American — likely inspired by half-Chinese actress Chloe Bennett, who plays the character in the ABC series Agents of S.H.I.E.L.D. and voices her in the film. There's also Latina hero America Chavez (Cierra Ramirez), who has the powers of flight and near-invulnerability; Patriot (Kamil McFadden), an African-American teen with powers like those of Captain America; and Inferno (Tyler Posey), a Latino mutant who can generate fire.
The Disney Channel movie also stars Kim Raver as Captain Marvel, Ming-Na Wen as Hala, and Dee Bradley Baker as Tippy Toe & Lockjaw.
The Marvel Rising: Secret Warriors trailer is zippy and fun, with a soft animation style that seems inspired by anime and anime-lite series like Avatar: The Last Airbender. It plays like Marvel's response to the wildly popular DC animated series, Teen Titans — easygoing and a perfect entry point for tween superhero fans into the world of Marvel. This film is the culmination of the Disney's Marvel Rising shorts — viewable on the Marvel HQ YouTube channel — that also featured Ghost-Spider, aka Spider-Gwen.
Here is the synopsis for Marvel Rising: Secret Warriors:
Superpowered teens Ms. Marvel, Squirrel Girl, Quake, Patriot, American Chavez and Inferno join forces to battle an unexpected threat.
Marvel Rising: Secret Warriors premieres on Disney Channel and Disney XD on September 30, 2018 at 10 p.m. ET/PT.