Cool Stuff: Rogue One's Great Temple Gets The Poster Treatment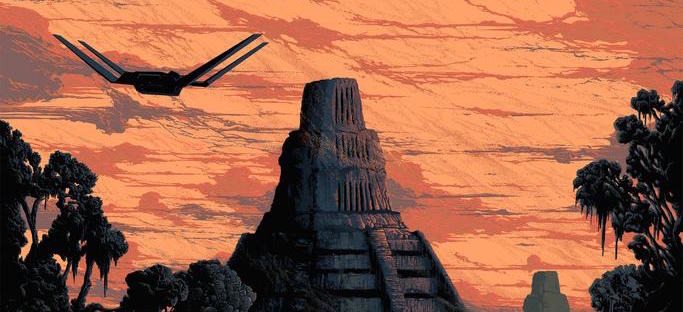 Following up his print of the Battle of Scarif from Rogue One: A Star Wars Story, Swedish artist Killian Eng gives us another stunning Rogue One poster. His newest piece displays the Great Temple, located on Yavin 4, in all of its glory. And there are two options: the sun-drenched color version and a moody black-and-white version that you can soon purchase.
Kilian Eng is one of our favorite poster artists, and his latest work is yet another must-buy. Especially if you want to pair it with Eng's previous Rogue One print, whose pale blue and yellow coloring offer the perfect complement to the Great Temple's warm orange palette.
Kilian's print, alongside its black-and-white variant, will be available today at 12 p.m. EST on Bottleneckgallery.com.
Titled "The Basis of Hope," the Rogue One poster is a 14-color screen print, 24 x 26 inches, and hand-numbered. It's one limited edition of only 300, which go for $50 each. The variant's features are a little different, offering a 7-color screen print at 24 x 26 inches. It costs $65 to buy one of the 75 hand-numbered editions.
Though I had mixed feelings about Gareth Edwards' film, this print is spectacular, and gives a sense of peaceful reverence that you can never experience in a gritty war film like Rogue One. If not for the spacecraft flying above and the retro Star Wars logo, you almost wouldn't be able to guess that this was a print for a sci-fi film. But still Eng's art has an unearthly feeling to it, which is what makes this Rogue One print so stunning.