Halle Berry To Star In And Direct MMA Drama 'Bruised'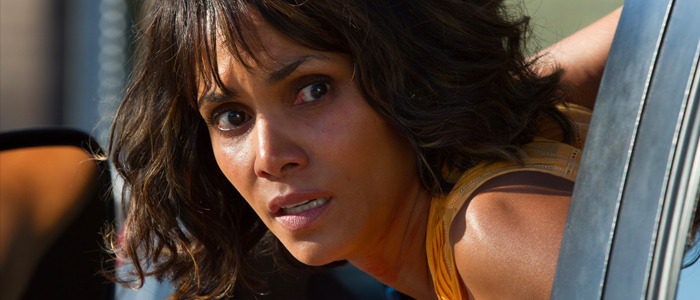 Halle Berry has spent the past few years putting in appearances in high-profile sequels like Kingsman: The Golden Circle and X-Men: Days of Future Past and low-budget thrillers like The Call and Kidnap. But now the Oscar winner is set to make her directorial debut with a new movie called Bruised, an mixed martial arts drama in which she'll also play the lead role of a disgraced former fighter who's forced to get back in the game once again.
Steven Soderbergh's not the only one out here keeping sports dramas alive on the big screen. Deadline reports that Halle Berry has just scored her first directing gig with Bruised, an MMA drama that will begin production in March of 2019.
Rookie screenwriter Michelle Rosenfarb, who wrote a 2011 short called Sweet Surrender, wrote the screenplay for this one. Here's what the story is about:
The plot follows Jackie "Justice," a disgraced MMA fighter who has failed at the one thing she's ever been good at – fighting. When 6-year-old Manny, the son she walked out on years ago, returns to her doorstep, Jackie has to conquer her own demons, face one of the fiercest rising stars of the MMA world, and ultimately fight to become the mother this kid deserves.
Berry is currently shooting John Wick 3: Parabellum, and it seems like her time on that movie has proven fruitful in other areas: Wick producer Basil Iwanyk and his Thunder Road Pictures will serve as one of the producers of Bruised, and Berry will train with the John Wick stunt team to get in brawling shape before shooting starts on her film. I wish her the best on this, but I must admit it's going to be very difficult to top the 2011 MMA movie Warrior, which is one of the best sports dramas of this millennium.
Scrolling through Berry's filmography, the last performance I loved from her was in 2012's Cloud Atlas, a wildly divisive movie that has just as many outright haters as it does adamant supporters (consider me firmly in the latter camp). Since winning the Best Actress Oscar for her work in 2001's Monster's Ball, she's only been in a smattering of memorable movies; she's clearly a superstar, but it seems as if Hollywood never quite knew what to do with her. I'd love it if we saw her mount a comeback that put her back in the same cultural consciousness as fellow veterans like Nicole Kidman and Reese Witherspoon, and maybe taking the story of Bruised into her own hands will be just what she needs to launch herself back into the ranks of the upper echelon.