Mondo Marvel Art Show Will Celebrate First Decade Of The MCU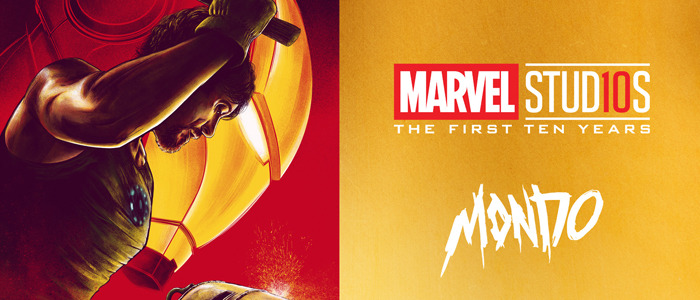 It's been 10 years since Marvel Studios changed Hollywood forever, and the folks at Mondo Gallery have been there from the beginning to mark new releases with memorable and often jaw-dropping artwork.
To celebrate the first decade of Marvel Studios' cinematic exploits, Mondo Gallery has announced a brand new show called Marvel Studios: The First Ten Years which will take place in Austin next month. Learn more about the upcoming Mondo Marvel art show below.
Marvel Studios: The First Ten Years is described as "an epic celebration of the twenty films to date in the Marvel Cinematic Universe." In addition to pieces we've seen before, the show will feature "new contributions from some of Mondo's most sought after artists" – although no names were mentioned in the press release, so feel free to speculate wildly about whether you could see a new piece from Tyler Stout or Olly Moss in the mix. Here's the official description of the show:
Marvel Studios: The First Ten Years brings fans an unprecedented artistic and cinematic journey, featuring all new posters and artwork from an incredible lineup of Mondo artists taking on the heroes, villains and films of the blockbuster MCU.
The opening night reception for the Mondo Marvel art show kicks off on Friday, October 12, 2018 from 5pm-10pm at 4115 Guadalupe Street in Austin, Texas. And as is often the case at big Mondo Gallery events, there will be a Family Day party on Saturday, October 13 with that's open to the public and will include face painting, food, and more. (Costumes are encouraged.)
The press release specifies that the previously-released artwork will be "on display", so it seems as if those pieces may not be for sale. That's a bummer for anyone who was hoping for a second chance to purchase any hot-ticket Marvel items that sold out upon first release. But the new stuff will be available for purchase, so the cycle will begin all over again. It's the Circle of Life.
The postcard for the event features artist César Moreno's print for the first Iron Man, showing Robert Downey Jr.'s Tony Stark forging his very first suit during his time as a captive of the Ten Rings. I've included the full image below, along with a selection of a few other pieces of Mondo Marvel art through the years. (Click to enlarge.)