'Mandy' Clip: Nicolas Cage Enjoys Some Downtime Before Things Go Bonkers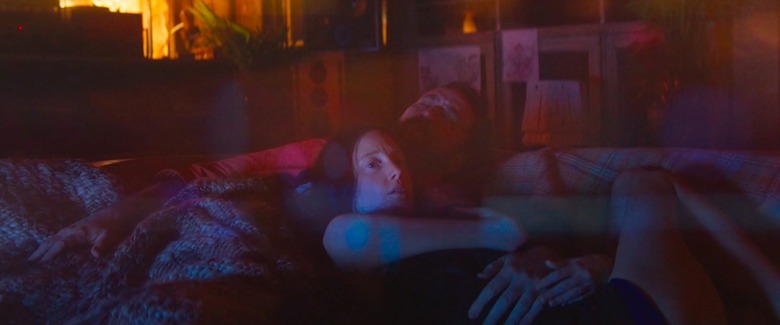 Everything we've seen of Nicolas Cage's blood-soaked revenge thriller Mandy so far is gore, axes, chainsaws, and a maniacal Cage at his most unhinged yet. But a new Mandy clip slows things down a bit to show us the calm before the storm. There's no blood or violence, just Cage and Andrea Riseborough as the titular Mandy, murmuring sweet nothings to each other as they enjoy a moment of peace and quiet.
Mandy Clip
Check out an exclusive clip of Nicolas Cage in #Mandy, plus find out his oddly successful way of rehabbing a broken angle. (Haven't talked much about this flick but it is awesome and so very, VERY metal🤘) https://t.co/O4prDlKsmE pic.twitter.com/8eKhfzHJOM

— Brian Truitt (@briantruitt) September 11, 2018
USA Today has debuted a short clip from Mandy, Cage's polarizing new revenge thriller that the star reportedly filmed with an injured ankle. Cage fractured his ankle in the spring of 2017 right before Mandy began filming, but healed "in record time" according to director Panos Cosmato. Cosmato built in some time in pre-production for Cage's ankle to heal, which turned out to be fortuitous for both director and star — Cosmato was given some extra prep time, and the stunt training actually helped Cage's ankle heal faster.
It was "probably not something that, in hindsight, one would recommend," Cage told USA Today. "But interestingly enough, having to get up to speed with the stunts and the fight sequences in a very short amount of time actually was great for my rehabilitation. Because there was no time and no margin for error, it pushed me, literally, out of the wheelchair and off of the cane and got me back on my feet. So kind of a happy accident."
The new Mandy clip is light on stunts — or action of any kind, really. It simply shows Cage's Red Miller and Riseborough's Mandy Bloom resting in each other's arms in their isolated home, speaking to each other in soft tones. It likely takes place at the beginning of the film, befoe their peaceful haven is brutalized by a cult led by Jeremiah Sand (Linus Roach). Driven insane with grief, Red goes on a deadly revenge spree — thus giving us all the axes, chainsaws, and blood promised in the bonkers trailer.
Here is the official synopsis for Mandy:
In the Pacific Northwest in 1983, outsiders Red Miller and Mandy Bloom lead a loving and peaceful existence. When their pine-scented haven is savagely destroyed by a cult led by the sadistic Jeremiah Sand, Red is catapulted into a phantasmagoric journey filled with bloody vengeance and laced with de

adly fire.
Mandy opens in theaters on September 14, 2018.