Chance The Rapper's Debut Film 'Slice' Is Now Available Online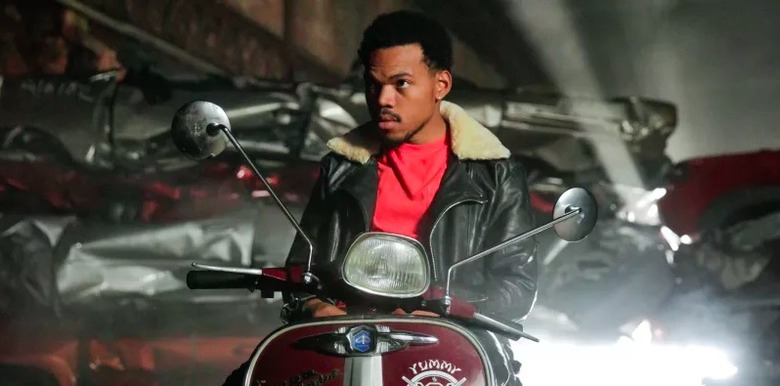 After more than a year of hype and cryptic, creepy teasers, Slice was dropped online without much fanfare.
An A24 horror film directed by first-time feature director Austin Vesely, Slice has ridden the buzz of its mystery for the past year, culminating in its one-night-only world premiere in Chicago on September 10. Then, mere hours after this flashy world premiere, A24 dropped the horror-comedy on digital platforms at midnight last night.
A24 is bypassing a traditional theatrical release for Slice, instead releasing the film on iTunes, digital and on-demand at midnight on September 11, 2018. The digital release came without warning — like Beyonce or like...The Cloverfield Paradox. Two products with very different critical receptions. Let's hope it's the former.
Starring Chance the Rapper in his film debut and Atlanta's Zazie Beetz, Slice chronicles the wild and violent events of one night in a spooky town, where a slew of pizza boys are mysteriously being killed. The hyper-stylized film follows Chance and Beetz's two survivors who attempt to catch the culprit. Oh, and the pizza place they work at happens to be a gateway to hell. Slice also stars Paul Scheer, Rae Gray and Stranger Things star Joe Keery.
Written and directed by Vesely, who has directed several of Chance's music videos, Slice is a bit of an enigma that started building hype back in 2015. A24 snapped up distribution rights in 2016 before news of the movie promptly dried up. For a year, we saw nothing save for a cryptic teaser that was released in October of last year. When the first trailer hit, Slice still remained an elusive mystery — which only spurred on genre fans who flocked to the world premiere at the ArcLight Cinemas Chicago and its live simulcasts in 20 cities across the country, including Austin, Texas; Atlanta, Georgia, San Francisco, New York City, and more.
But will the hype have been worth it, or is this a case of A24 dropping a troubled film online without fanfare? We have two prior examples with polar opposite results: Beyonce who — let's face it — is Beyonce, and The Cloverfield Paradox, which received a buzzy trailer from Netflix before dropping on the streaming service to poor reviews a few hours later. I'm leaning toward the latter, especially since A24 hasn't announced any further plans to release Slice in theaters beyond its one-night premiere.
But I could totally be proven wrong once Slice reviews start rolling in today. Or you could watch Slice online now to see what all the fuss is about.