'Gloria Bell' Review: Julianne Moore Charms In A Fun But Melancholy Romance [TIFF]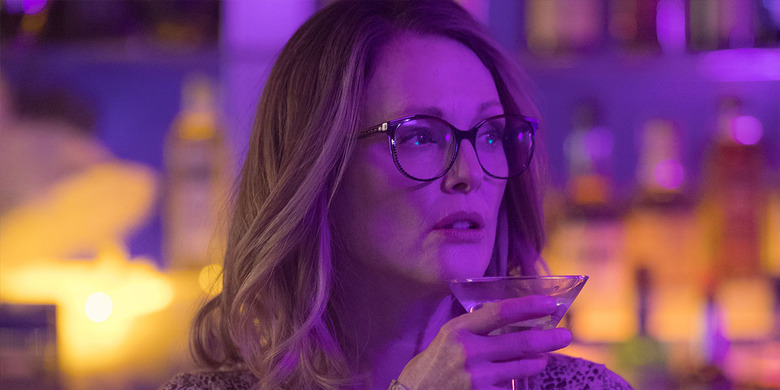 The world is hard. Movies are largely rising to the challenge of portraying that reality, which is wonderful – but the soul can only withstand so many depressing films. Sometimes, we need something that's just nice. Not necessarily the saccharine sweetness of a Nancy Meyers movie, which is a delight, just something that revels in small victories for a good person. Director Sebastián Lelio understands that sometimes the sight of Julianne Moore dancing and smiling is enough to set the heart a flutter. Gloria Bell, his American remake of his own Chilean film, provides us the opportunity to celebrate the little things.
Her intrinsic triumphs do not come about lightly, and Gloria Bell shows just how tough of an accomplishment that satisfaction can be to come by. Lelio does not shy away from the melancholy of his protagonist's isolated situation, and it makes her triumphs all the sweeter to savor.
Julianne Moore's titular character is dealt with politely, if at arm's distance by her adult children. Michael Cera's Peter could certainly make use of his mother's help, given that his wife abandoned him to care for their infant child alone, but he barely bothers to look up from his phone when Gloria comes to visit. Caren Pistorius' Anne accommodates more of her mother in her life, but she's about to follow her boyfriend to Sweden. Things are not much better at work, either, where it looks like her employer wants to sneakily slash 401(k) benefits.
While she maintains a soft smile on her face throughout the drudgery of life, Gloria finds most of the pleasure in her life while dancing at various disco clubs around Los Angeles. The sight of these digs is a touch ironic – the music and décor have changed little, but the people bopping to all the same tunes have aged quite a bit in the intervening decades. Though Gloria's lust for life remains the same as it might have been in the age of bell-bottom pants (at least the first time they were popular), her modest personality translates into shyness when interacting with potential dance partners. Thankfully, John Turturro's Arnold catches Gloria's eye across the floor during the bopper "Ring My Bell."
Like Gloria, Arnold is a divorcee – albeit a little more recently – with kids. The two feel a genuine passion for each other as their relationship begins and just enjoy each other's company and conversation. It's here where that Moore sparkle really starts to kick in. She's radiant as ever enjoying herself fully for what seems like the first time in far too long.
But as their courtship continues, Gloria begins to realize just how indebted Arnold still remains to both his ex-wife and two daughters. Not only does he let them live off his money, but he also manages to set no boundaries in dealing with their incessant requests. The obvious play for Moore and the film would be to play her response to this development as pure jealousy. Gloria Bell plays it differently. She seems more disappointed and exasperated than anything else. All she really wants is a life partner who can give her the same love and attention that she provides everyone else in her orbit.
The real journey of Gloria Bell has little to do with Gloria and Arnold's relationship and everything to do with her own self-respect. Through some repeated frustrations, Gloria learns to find the deepest satisfaction of all by loving herself. Thankfully, for a movie where the biggest battles take place inside Gloria's heart and mind, Lelio lets her crucial moments play out quietly and internally. There's not really an awards show-ready acting clip for Moore – just a steady stream of authentic character work.
It makes sense for a modest film to be ... well, modest. Gloria Bell is as unadorned as its protagonist, which is fine until some of the moments and beats start to feel predetermined towards the end. (And that's not just speaking as someone who saw the original – I remembered only the broad strokes of that narrative, which is more or less carbon copied here.) A cast of superb supporting characters help bring vitality throughout, with appearances from Brad Garrett, Jeanne Tripplehorn (who learns to vape!), Holland Taylor, Sean Astin and Rita Wilson, who at this point should be contractually obligated to be in any movie about divorced women over 50. But to claim the movie is anything other than the Julianne Moore show would ring false.
"When the world blows up," Gloria remarks, "I hope I go down dancing!" May all who watch Gloria Bell inherit just a fraction of this hard-earned, earnest optimism. The world needs it.
/Film rating: 7 out of 10