'Viper Club' Trailer: Susan Sarandon Sets Out To Save Her Kidnapped Son In YouTube Original Movie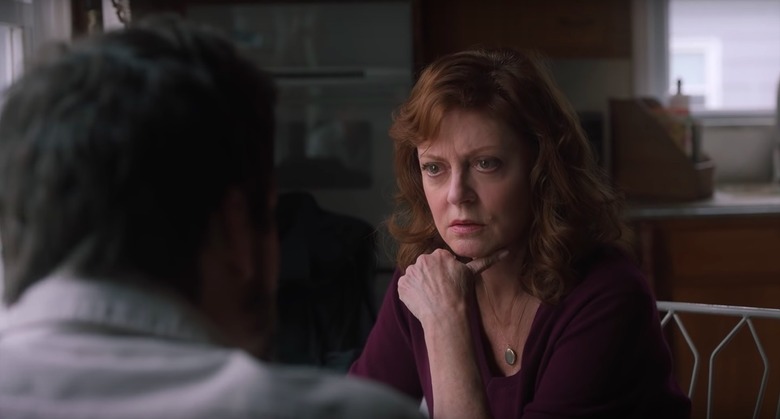 YouTube may be trailing behind Netflix when it comes to scripted content, but it's just getting started. Following the success of Cobra Kai, it's getting into the original movie game. And it's got Oscar winner Susan Sarandon headlining its first feature film, Viper Club.
Sarandon stars as ER nurse Helen, who tries to gather support for her journalist son (Julian Morris) after he get kidnapped in Syria. And she finds it in the mysterious Sam (Matt Bomer), who heads an an informal network of international journalists, Middle Eastern operatives, and charitable rich people who throw in their support to help her son.
Viper Club Trailer
The U.S. government doesn't negotiate with terrorists, which presents a huge problem for Sarandon's Helen in Viper Club. Helen's journalist son gets kidnapped while in Syria, forcing her to turn to a shady network of international journalists, operatives and the uber-rich lead by the equally shady Sam (Bomer) and wealthy patron Charlotte (Edie Falco). But this network is actually somewhat based in reality — it's similar to the kind described in Lawrence Wright's 2015 New Yorker article about media executive David Bradley's attempts to help the families of ISIS hostages save their loved ones.
Though it's ostensibly a drama about a mother looking for her missing child, director Maryam Keshavarz tackles a slew of political and social issues with Viper Club.
"More than anything, it's looking at how class and access to information might actually influence the outcome of such a story," Keshavarz told Entertainment Weekly. "We situated the character in the ER because we thought it was very emblematic of what's going on in the United States, where so many people don't have health care. Literally, who lives and who dies depends on your access to services. This is a way to talk about all those themes through the life of one fictional character who's struggling."
YouTube is pulling out all the stops for its first original feature. Viper Club premieres at the Toronto International Film Festival this week, and will hit select theaters before it drops on the streaming service. And with a star-studded cast led by Sarandon, Bomer, and Falco, YouTube's gamble could pay off.
Here is the official synopsis for Viper Club:
ER nurse Helen Sterling (Susan Sarandon) struggles to free her grown son, a journalist captured by terrorists in the Middle East. After hitting walls with the FBI and state agencies, she discovers a clandestine community of journalists, advocates, and philanthropist who might be able to help.
Viper Club opens in select theaters on October 26, 2018.