'Outlander' Season 4 Trailer: Claire And Jamie Are Coming To America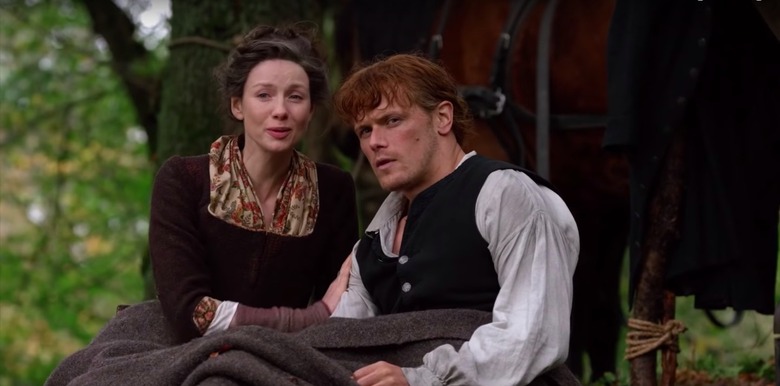 Starz blesses us with a drop of water to sate our thirst during the Droughtlander with a new sexy Outlander season 4 trailer. Hopefully it'll be enough to get you through to November, when the latest season of Outlander brings our favorite star-crossed lovers to a brand new world: Colonial America.
Outlander Season 4 Trailer
"Do you know what lies beyond those trees? This is just the start of what America will become. People come here in the thousands, all hoping to live the American dream," Claire says.
But Caitriona Balfe and Sam Heughan's Claire and Jamie are in for something a bit more like a nightmare than a dream when they set out to make a new life in colonial North Carolina. One: slavery, which Claire immediately takes issue with at Jamie's aunt's estate in Riverrun. Second: bandits, when the pair set off to live on their own after they can't stomach the prospect of Jamie's aunts owning slaves anymore. Then there's that pesky issue of a revolution brewing against the British. After decades of war, separation, and time travel, the Frasers really can't catch a break.
The fourth season of Outlander is based on Diana Gabaldon's Drums of Autumn, the fourth book in her best-selling series. In additions to Claire and Jamie's adventures in Colonial America, it also follows Claire and Jamie's daughter Brianna Randall (Sophie Skelton) in the 20th century, who along with historian Roger Wakefield (Richard Rankin) makes a shocking discovery about her mother than may set the pair on the same path that Claire made all those years ago.
Here is the official synopsis for Outlander season 4:
The fourth season of "Outlander" will include 13 episodes based upon Drums of Autumn, the fourth of the eight books in Diana Gabaldon's international best-selling Outlander series. The upcoming season continues the romantic adventures of Claire (Caitriona Balfe) and Jamie Fraser (Heughan) in America and will premiere this November 2018 on Starz. Additionally, the series has been renewed for two more seasons, taking it through season six. The "Outlander" television series, executive produced by Ronald D. Moore, Maril Davis, Toni Graphia, Matthew B. Roberts and Andy Harries, is inspired by Diana Gabaldon's eight-book Outlander series that has sold an estimated 30 million copies worldwide with all the books having graced the New York Times best-sellers list.
Outlander season 4 returns to Starz on November 4, 2018.