'Ant-Man And The Wasp' Blu-Ray, Digital HD Release Dates Revealed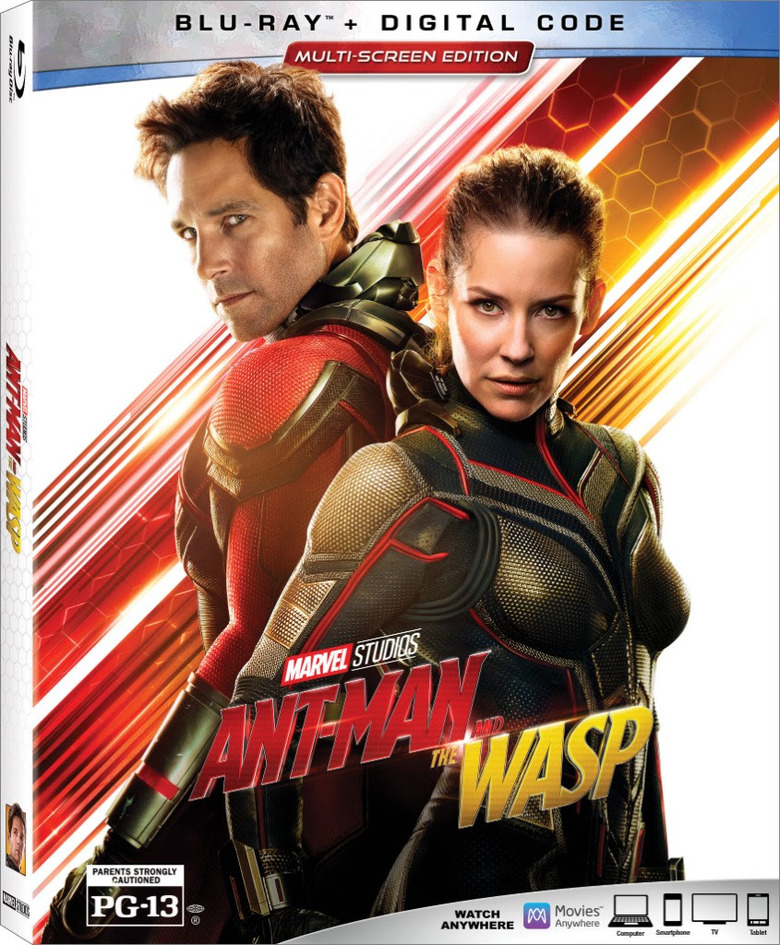 Ant-Man and the Wasp is coming to Blu-ray and Digital HD — and no, they will be regular-sized. Marvel Studios has revealed the Blu-ray and Digital HD release dates for the Ant-Man sequel, along with a slew of special features and bonus material. The comic book movie will be hitting shelves in October, three months after it played in theaters. Looks like Ant-Man and the Wasp's parole will be shorter than we expected.
Ant-Man and the Wasp Blu-ray Trailer
Marvel released a trailer announcing the Blu-ray and Digital HD release dates. Fans of the shrinking hero can watch the larger-than-life adventure on Digital HD and 4K Ultra HD on October 2, 2018, and then bring it home few weeks later with the Blu-ray and Blu-ray 4K Ultra HD hitting shelves on October 16, 2018. It will be available digitally on platforms like iTunes, Vudu, and more before it hits Blu-ray shelves.
Special features will be available for both formats, including making-of featurettes, deleted scenes, and gag reels. Those who buy the movie digitally will get a few more exclusive features. Find out what features are available below.
Blu-ray and Digital HD Bonus Material
Blu-ray & Digital:
Director's Intro by Peyton Reed – The talented creator behind some of Marvel Studios' funniest and most charming films will invite home audiences deeper into the world of "Ant-Man and The Wasp."
Making-of Featurettes:
Back in the Ant Suit: Scott Lang – Hero and all-star dad Scott Lang keeps the laughs coming for the audience, cast and crew.
A Suit of Her Own: The Wasp – Highly trained Hope Van Dyne is now the Wasp. See how some of her craziest stunts and action-packed scenes were brought to life.
Subatomic Super Heroes: Hank & Janet – Hank Pym's wife Janet was lost in the quantum realm. Trace the legacy of these characters and the iconic actors who portray them.
Quantum Perspective: The VFX and Production Design of "Ant-Man and The Wasp"– Explore the movie's visual effects and production design from a whole new viewpoint, in which every micro and macro detail counts.
Gag Reel and Outtakes – Audiences are treated to the hilarious quips that did not make the film as well as exclusive outtakes from Stan Lee and Tim Heidecker.
Gag Reel - Join in the fun with these outtakes from the set.
Stan Lee Outtakes - Stan Lee tries out a series of hilarious one-liners for the scene in which his car shrinks.
Tim Heidecker Outtakes - Check out Whale Boat Captain Daniel Goobler and his improvised whale-watching riffs.
Deleted Scenes (with commentary by Director Peyton Reed)
Worlds Upon Worlds - As Janet leads Hank through the surreal landscape of the quantum realm, they encounter an intelligent life form.
Sonny's on the Trail - On the hunt for Hank Pym and his lab, Sonny Burch and his henchmen check the security camera of a neighborhood bookstore.
Digital Exclusives:
10 Years of Marvel Studios: The Art of the Marvel Cinematic Universe – See what it takes to bring the MCU to life, and the role concept artists play in bringing Super Heroes from comic book to screen.
Online Close-Up Magic University – This commercial will inspire you to expand your mind and maximize your full potential!