'Mid90s' Review: Jonah Hill's Directorial Debut Is A Masterful Coming-Of-Age Tale [TIFF]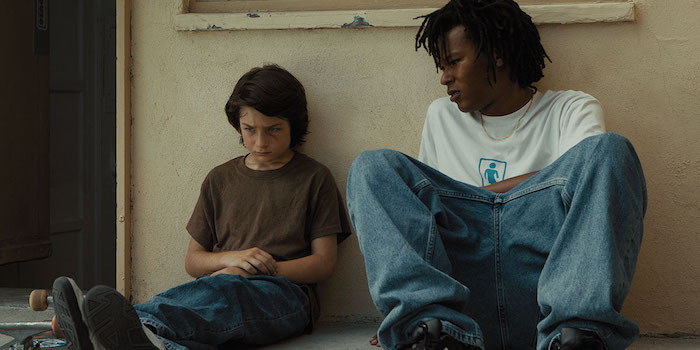 Jonah Hill has struck gold in his first feature film as director. mid90s is a heartfelt coming-of-age story made with real wisdom and insight into what makes young men tick. Though highly specific to Hill's own milieu growing up in Clinton-era Los Angeles skateboarding culture, his incisive portrayal of how adolescents forge social bonds carries a wide-ranging resonance that transcends the particulars of the situation.
In just 84 minutes, Hill crafts a film that crackles with the joy of finding one's place in the world. When young Stevie, electrically played by Sunny Suljic, stumbles into a group of older skateboarding cool kids, you can see the new horizons dawning in his eyes. At first, Stevie's youthful ignorance makes him more like the gang's pet than their equal. He's someone they can try to impress with their own masculine posturing, the desperation of which Hill captures hilariously. The need for the group's validation sends Sunny scurrying home to quickly revamp his own taste and skillset. His quiet transformation serves as a welcome reminder that, as impressionable young people, we often become ourselves by borrowing portions of our identity from other people.
Soon enough, Stevie becomes a full-fledged member of the group, christened with the nickname "Sunburn." (Better to learn the origin from the hilarious moment in the film itself.) From here, mid90s makes for a joyous celebration of finding your people and slowly convincing yourself that un-coolness is not your natural state. While Hill has plenty of fun hanging out with the skateboarding team, he does not let the film simply become a hangout movie. He's always on the lookout for suppressed tensions and unspoken rage. At one point, Stevie falls out with a member of the group. The moment where the resentment kicks in is very clear, and it's never really explained. And it doesn't need to be! Hill understands the way that fickle adolescent boys change their opinions on a whim, never verbalizing the shift but always making it clear attitudinally.
One relationship that does not improve by Stevie's coming into himself is the one with his older brother, Lucas Hedges' Ian. Their unique dynamic is a real hidden gem of mid90s, and one which I cannot entirely divorce myself from evaluating – the representation of siblings with such a significant age gap that they are not really peers recalled the way I relate to my own younger brother with an intensity I have never before experienced. While many cinematic siblings have resonated with me over the years, nothing has come so close to approximating this very specific and not immediately transferrable fraternal bond.
In mid90s, Stevie joining the skateboarding crew does not only mean he has a new set of friends – he has a new set of idols. This dethrones Ian, who automatically rests on a pedestal by virtue of being an older guy in Stevie's life. The elder sibling has grown accustomed to an arrangement where Stevie looks up to him without question, allowing him to put his younger brother "in his place" through the use of physical force. (The excellent sound design in the film makes each of Ian's punches land with an intensity that mirrors their psychological blow in Stevie's mind.)
But after a chance encounter with the skate crew leaves Ian limping away with his metaphorical tail between his legs, Stevie begins to realize his brother is not as tough as he seems. The skirmish removes an aura of deity and impenetrability around Ian. Now he's just another guy, and this leveling of the playing field proves deeply emasculating for Ian. Hedges, to his credit, never shies away from the humiliation of this diminished stature. Yet, in this new place, his filial love and duty begrudgingly grows.
Director Alexander Payne once remarked that a director's first film is often their best because they get to tell the story they have waited their whole life to share. mid90s feels like Jonah Hill's soul pouring out on screen, an authentic and unfettered expression of maturation and belonging. I sincerely hope he didn't put everything he had into this debut feature. If not, we could very well be looking at a new great humanist filmmaker.
/Film rating: 9.5 out of 10