Experience 'Kingdom Hearts' In VR As You Wait To Play With Baymax In 'Kingdom Hearts 3'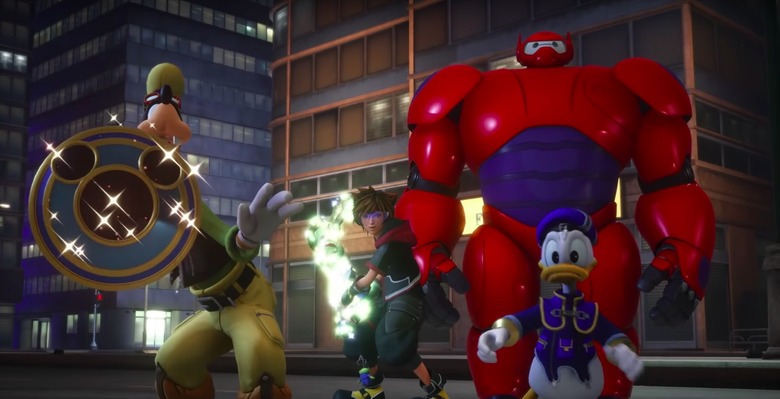 Kingdom Hearts fans know how to wait. They've probably played the waiting game for longer than they've played any of the Kingdom Hearts games, so these next few months until the release of Kingdom Hearts 3 should be a piece of cake after we've already waited 13 years. It's fine. It's totally fine.
But wait! Before you go crazy waiting for Kingdom Hearts 3 to hit shelves on January 25, 2019, the wait for any and all Kingdom Hearts content will be a tiny bit shorter thanks to a Kingdom Hearts VR experience debuting on the PlayStation VR this holiday season. It'll be a perfect way to bide the time while we wait to play with Baymax and the heroes of Big Hero 6, who were just teased in the latest Kingdom Hearts 3 gameplay trailer.
Kingdom Hearts VR
The long winter months will go by in a flash thanks to the Kingdom Hearts: VR Experience. No longer will we have to wait for the release of Kingdom Hearts 3 by endlessly watching Let's Plays of the previous games or rewatching the hundreds of new trailers — no, now we can experience it for ourselves.
Polygon reports that the Kingdom Hearts: VR Experience, coming to PlayStation VR this year, will be a free 10-minute interactive video that compiles the iconic moments of the Kingdom Hearts games. So, think of it as one of the dream-like openings to each game, but without Utada Hikaru crooning in your ear the entire time. There's no official list of what moments from the 16-year series will be featured, but the PlayStation Blog promises that it will include "favorite memories from the storied franchise with this special, immersive experience." The immersive video will also feature music from the games, and allow you to unlock more content as you keep playing.
There's no exact date yet, but Kingdom Hearts: VR Experience will be available as a free download from the PlayStation Store sometime this holiday season.
Kingdom Hearts 3 Debuts Big Hero 6 World
Speaking of Kingdom Hearts 3 trailers to endlessly rewatch in anticipation of the game, Square Enix has just released a new Japanese-language gameplay trailer featuring the characters of Big Hero 6. This is our first peek at Baymax in action, as well as the battles we get to fight alongside Hiro, GoGo, Honey Lemon, and more. The detail and graphics are exquisite, and while the story shown in this trailer makes very little sense, I couldn't be more excited.
Kingdom Hearts 3 is confirmed to feature new Disney and Pixar worlds including the Kingdom of Corona from Tangled, San Fransokyo from the Big Hero 6, Andy's Toy Box from Toy Story, and the world of Monsters, Inc.
Kingdom Hearts 3 will be available on PS4 and XBox One on January 25, 2019.