A 'Candyman' Remake Could Be Coming From Jordan Peele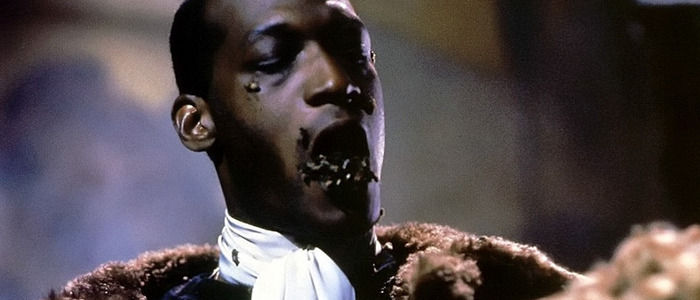 Actor Tony Todd was already well-known before starring in Bernard Rose's 1992 film Candyman, but his performance in that film turned him into a horror movie legend. A supernatural killer with a tragic backstory, the imposing Candyman could be summoned by saying his name five times into a mirror.
Now, a new report says that Oscar winner Jordan Peele (Get Out) is in talks to produce a Candyman remake – and there's even a chance he could direct it.
It took years for me to work up the courage to watch Candyman. The VHS box art, which features a bee crawling into a person's eye with the dark silhouette of Tony Todd as the title character replacing the eye's pupil, was enough to give me nightmares as a kid. But when I finally checked it out, I was surprised to find that this is more than just a riff on Bloody Mary – it also had a lot to say about class and race.
Bloody-Disgusting reports that Peele is in talks to produce a remake through his Monkeypaw Productions, but it's still unclear if he also plans to step behind the camera and direct it as well. Considering Peele's filmmaking history thus far, a Candyman remake seems like a great match between filmmaker and material. Peele's work has explicitly addressed race within the confines of genres filmmaking, and this story provides another opportunity to do the same thing.
Even if this project ends up falling apart, I hope the mention of it drives more people to check out the 1992 original. Here's the trailer:
It's been about 15 years since I've seen this film, which is based on a Clive Barker short story, but here's how Wikipedia describes the tragic origin of the movie's notorious killer:
Candyman was the son of a slave who became prosperous after developing a system for mass-producing shoes during the Civil War. He grew up in a polite society and became a well-known artist, sought after for his talent in producing portraits. After falling in love with and fathering a child with a white woman in 1890, Candyman was set upon by a lynch mob hired by his lover's father; they cut off his painting hand and replaced it with a hook. He was smeared with honey stolen from an apiary, attracting hungry bees which stung him to death.
Could Tony Todd come back to reprise the role once again? Will Peele end up directing this? There are still a lot of questions and we don't have a timetable on the remake (or even if/when it might head into production), but we'll be keeping a close eye on this one. In the meantime, be sure to check out our ranking of every Clive Barker movie here – you may be particularly interested in where Candyman falls on the list.