'Mortal Engines' Score To Be Created By 'Mad Max: Fury Road' Composer Junkie XL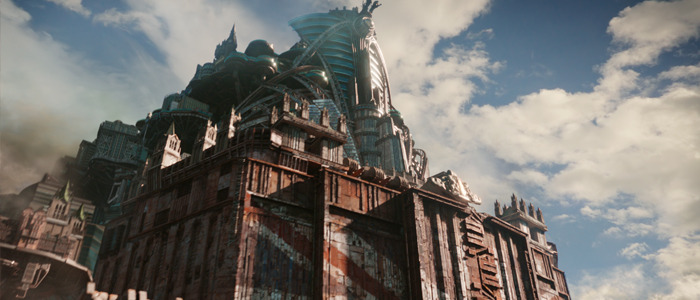 Universal's Mortal Engines takes place in a far-flung future in which giant cities travel on wheels through a desolate wasteland. So who better to compose the score than Junkie XL, who ventured into a similar post-apocalyptic wasteland when he provided the score for Mad Max: Fury Road a few years ago?
Musician/DJ/composer Junkie XL, AKA Tom Holkenborg, is officially on board to create the Mortal Engines score. Listen to a few of his other movie-related tracks from films like Batman v Superman: Dawn of Justice, Deadpool, and more below.
Mortal Engines is an adaptation of the first book in author Phillip Reeve's Predator Cities novel series, which follows two adventurous young people who must band together to survive during tumultuous times. This trailer sets the stage for what to expect:
Junkie XL revealed on Twitter that he'd been hired to score the movie, and even despite his impressive film credits, he says the process was a learning experience for him:
Friends, I'm proud to announce that I am working on the original score to the upcoming film @Mortal_Engines, produced by Peter Jackson and Fran Walsh (Lord of the Rings, The Hobbit, King Kong) and directed by Christian Rivers. https://t.co/Jj9EkjY2hx

— Tom Holkenborg (@Junkie_XL) September 6, 2018
I am extraordinarily grateful to Peter, Fran and Christian for this opportunity and their friendship. Scoring Mortal Engines pushed me to my limits, it's an incredible project to be part of. The film comes out Friday, December 14. Hope you can enjoy it in theaters!

— Tom Holkenborg (@Junkie_XL) September 6, 2018
Here are a few tracks from Junkie XL's other scores:
Holkenberg has tons of informative videos on his personal YouTube channel, and as a nice bonus, there are a few like this one, where he inexplicably teaches everyone how to cook spaghetti carbonara:
Christian Rivers is making his feature directorial debut on Mortal Engines after collaborating with Peter Jackson for over 20 years, moving from a storyboard artist to visual effects and then to directing second unit for the Hobbit trilogy. Jackson co-wrote the screenplay with Fran Walsh and Philippa Boyens, his collaborators on The Lord of the Rings and The Hobbit trilogies. We learned a ton about Mortal Engines during our set visit to New Zealand, including everything you need to know about its characters.
Here's the movie's official synopsis:
Thousands of years after civilization was destroyed by a cataclysmic event, humankind has adapted and a new way of living has evolved.  Gigantic moving cities now roam the Earth, ruthlessly preying upon smaller traction towns. Tom Natsworthy (Robert Sheehan)—who hails from a Lower Tier of the great traction city of London—finds himself fighting for his own survival after he encounters the dangerous fugitive Hester Shaw (Hera Hilmar). Two opposites, whose paths should never have crossed, forge an unlikely alliance that is destined to change the course of the future.
Mortal Engines opens in theaters on December 14, 2018.