'Solo: A Star Wars Story': Darth Maul Actor Ray Park Talks About Shooting That Cameo And Teaches Us Some Lightsaber Moves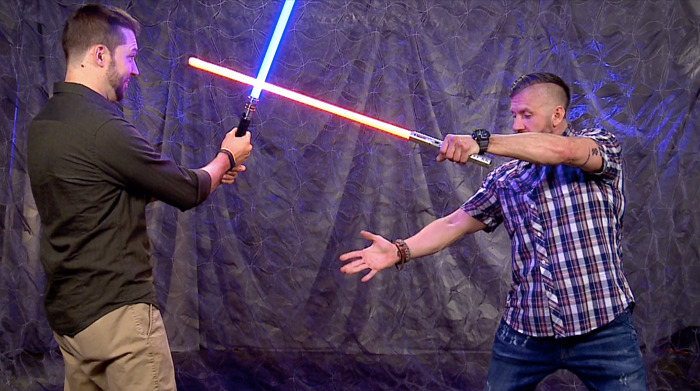 Solo: A Star Wars Story didn't land with quite the splash that Disney and Lucasfilm wanted, but one moment that was a big hit with fans was the secret cameo of Darth Maul, embodied once again by actor Ray Park.
I had a chance to catch up with Park in advance of Solo's home video release, and he told us about Lucasfilm's hardcore secrecy, shooting that sequence, working with actor Sam Witwer (who provides the character's voice), and more. Plus, he even showed us a few lightsaber moves and shared a story about filming the iconic lightsaber duel at the end of The Phantom Menace. Check out our Ray Park Solo interview below.
Solo ends with Qi'ra (Emilia Clarke) killing her boss, Dryden Voss (Paul Bettany), and contacting the leader of the Crimson Dawn crime syndicate to inform the leader that she's taking Voss's place. A shadowy figure pulls back a hood, and it's revealed to be Darth Maul (Okay, yes, he's technically just "Maul" now for all of you hardcore fans out there). The former Sith lord uses the Force to grab a lightsaber, tells Qi'ra that they're going to be working closely together in the future, ignites his weapon, and hangs up. It's one of the film's few truly surprising moments.
I visited the Walt Disney Studios lot in Burbank, California yesterday to chat with Park about that moment, what he wants to see happen with the character moving forward, and more.
Maul Photos
Lucasfilm also unveiled some new Maul-themed images that show off the character's robotic legs, which he gained after being sliced in half by Obi-Wan Kenobi in The Phantom Menace.
Solo Bonus Features
Before we spoke with Park about his work on the movie, Disney showed us a few of the bonus features that will accompany Solo for its home video release.
First up was a video called Team Chewie, which concentrated on Chewbacca actor Joonas Suotamo and the tons of people who help him bring that character to life. They talked about how four Chewie suits were made for this film, and each one was created by plugging in tons of individual hairs all over the suit to give him that furry look we all know and love. Remember the mud scene where Han and Chewie first meet? All of the mud being attached to all of that hair made the suit six or seven times heavier than it normally is, so that was a nightmare for Suotamo to shoot.
Next was a featurette called Remaking the Millennium Falcon, which recycled a lot of footage we've already seen of Donald Glover showing us what the Falcon looked like when Lando Calrissian was its captain. There were some additional talking head interviews we've never seen before, and a couple of concept renderings of the Falcon with fins, flames, and even the Pontiac Firebird symbol emblazoned on the ship to make it look like a space version of the car from Smokey and the Bandit. (RIP, Burt Reynolds.) It also revealed that the Falcon's flashy new interior was actually built over the top of the version of the ship that was built for Star Wars: The Force Awakens, so if you were to peel off the white cushions, you'd see the aged version underneath.
We also saw about half of an extended interview featurette in which director Ron Howard moderates a discussion with the cast about how where they were when they found out they got the part, being in a Star Wars movie, and more. It's loose and unscripted, and it's nice to see everyone seemingly enjoying spend time together.
Finally, we got a quick glimpse at a deleted scene on a snowy mountaintop that involved a snowball fight between Han, Chewie, and Woody Harrelson's Beckett. Chewie makes a snow angel at one point. It's cute, but easy to see why it didn't make the final cut.
Solo: A Star Wars Story arrives on Digital HD on September 14, 2018, and it comes to Blu-ray and DVD on September 25, 2018.