'Daredevil' Season 3 Teaser: Matt Murdock Embraces The Dark "Devil" Inside Him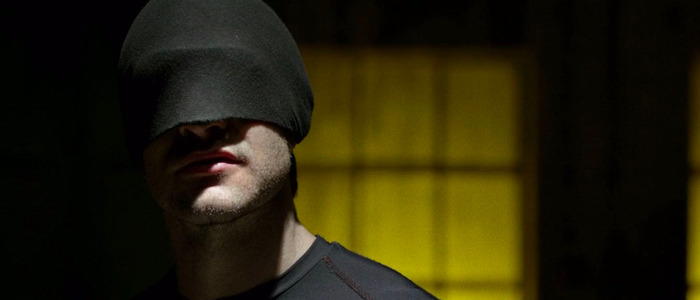 Daredevil season 3 will be darker than ever. Literally.
The new Daredevil season 3 teaser, which debuted after the second season of Iron Fist on Netflix, suggests a darker Matt Murdock (Charlie Cox) who is ready to embrace the "devil" inside him. And because this show isn't one for subtlety, Matt is cloaked in darkness while sitting in that familiar confessional booth that he so often frequents.
Daredevil Season 3 Teaser
We haven't seen Matt Murdock since he supposedly died at the end of Defenders, sacrificing himself to save the city and die in the arms of his lover Elektra Natchios (Élodie Yung). Or did he? The end-credits of that team-up miniseries gave us a glimpse of a battered Matt Murdock waking up in a bare room with a nun by his side, very much alive. But if you thought this would harken a fresh new start for Matt, well, you really haven't been paying attention for the past two seasons.
It seems that after being nursed back to life, Matt's in a darker place than he ever was before, confessing to a priest that he has come to see "darkness" as the only way to find justice. Bruised and bloodied, Matt launches into one of his classic angsty monologues:
"I once believed that justice could be found in a court of law, and in the light of day. But I was fooling myself. Darkness only responds to darkness. The truth is... I'd rather die as the devil, than live as Matt Murdock."
While Matt Murdock flirted with his dark side in the second season of Daredevil, it seems that everything he's lost will send him spiraling even further. And based on what we know of the season, that's not much of a surprise. Daredevil season 3 will reportedly be based on one of Daredevil's most despairing arcs: Frank Miller's 1980 Born Again comics storyline. The story follows the revelation of Daredevil's secret identity after Karen Page sells the knowledge to his enemies, which Kingpin then uses to destroy Matt's life. Driven to paranoia and insanity, Matt is saved by Sister Maggie, who turns out to be his mother. The Netflix series will take its creative liberties, of course, but all the elements of there, including the casting of Joanne Whalley (The Borgias) as Sister Maggie, who nurses Matt back to health.
Charlie Cox is set to return as Matt Murdock/Daredevil, as well as Deborah Ann Woll as Karen Page, Elden Henson as Foggy Nelson, and Vincent D'Onofrio will be back as Wilson Fisk, AKA The Kingpin.
Daredevil season 3 is expected to premiere on Netflix sometime in 2018.