'Fahrenheit 11/9' Early Buzz: Michael Moore Goes After Trump In His Most Powerful Documentary Yet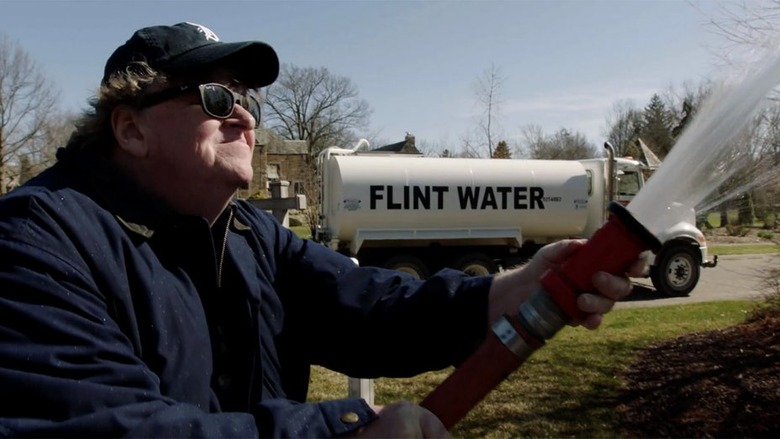 Audiences mostly know what to expect when it comes to Michael Moore documentaries. Searing indictments of the institution, the system, The Man. But when word got out that he planned to target President Donald Trump in his newest documentary, Fahrenheit 11/9, the buzz started to grow over a film that would pit a notable firebrand against the country's most divisive figure. Not to mention the fact that the title was a playful twist on his acclaimed takedown of the Bush-era Iraq War.
So what did critics think of Moore's radical documentary about the rise of Donald Trump? See what the Fahrenheit 11/9 early buzz is out of the Toronto International Film Festival.
Salon dubs Fahrenheit 11/9 "Moore's most powerful movie yet," drawing on the filmmaker's legacy of "documentaries that are provocative, insightful, revelatory and witty":
It's not unusual to describe a creative triumph as a "tour de force." But in this case the phrase, which stems from the French for "feat of strength", is especially apt. This film really is Moore's tour de force — a forceful, moving, and compelling call to action.   A number of Michael Moore's films have made history. This time he's asking his audience to be the ones to do it.
Indiewire calls Fahrenheit 11/9 "a messy movie for messy times" that "spotlights the potential for a new chapter":
Moore isn't making one movie here — he's making a whole bunch of them, all colliding at once, in a sprawling quest to save America and highlight Trump's biggest threats. Among the more incendiary diatribes strewn throughout this angry treatise, Moore compares Trump to Hitler. It's not a fresh parallel, but rarely drawn in such precise terms, and speaks to Moore's desire to hack away at his target with relentless intensity in this scattershot portrait of a country under siege.
Variety dings the film for a "nose-thumbing" start that soon "turns into a powerful warning about fascism":
Yet if you stick with the movie, it starts to acquire a potent chill. Because "Fahrenheit 11/9" is truly about something, and that's Michael Moore's fearless — and I would say accurate — perception that what's going on in our government today is more sinister than even a lot of liberals think. In "Fahrenheit 11/9," Moore captures how the groundwork is being laid for a full-scale destruction of democracy. Moore's point is that democracy has always been a frail blossom, never entirely here to begin with (as Leonard Cohen put it: "Democracy is coming...to the USA"). He's saying that those of us who look at Trump and think that the Constitution, or Robert Mueller, will save us may be kidding ourselves.
The Hollywood Reporter was a little less kind, criticizing Fahrenheit 11/9 for having an "unfocused target" that may make it less accessible for audiences outside of Moore's own fanbase:
The multiple targets and multiple threads which weave in and out of Fahrenheit 11/9 make it feel jumpy at times and less focused than Moore's docs on health care, the automobile industry and the Columbine high school shootings. Nonetheless, there is much food for thought in the film, shot with the director's characteristic passion, flair, wicked sense of humor and willingness to push the envelope. Among the risks he takes is a direct comparison of Trump to Adolf Hitler, which leads him to speculate that a further, frightening erosion of democratic process and constitutional rights could be in the making. The film was heartily acclaimed at its world premiere in Toronto; out in the real world, though, it is unlikely to travel far beyond the director's regular audiences.
The Wrap agrees that while Fahrenheit 11/9 isn't the movie about Trump that "we thought Moore was making," it is still a rousing call to action:
The movie he made is bigger, messier, more sprawling and ultimately more rousing. It goes on long detours, changes course and leaves Trump offscreen for huge chunks of time, as it turns into something that is less an anti-Trump diatribe than a demand for action.
And a few more critics took to Twitter, where the praise for Moore's documentary was a little more effusive. The general consensus: Michael Moore is angry, and that makes the film even more of a searing indictment.
FAHRENHEIT 11/9: Like all Michael Moore movies, has tendencies toward self-mythologizing, narrative messiness, and too broad a focus, but those objections feel more minor in the face of its urgency and anger (quite a bit of which is aimed at establishment Democrats) #tiff

— Alison Willmore (@alisonwillmore) September 7, 2018
Fahrenheit 11/9 – Oh damn. Mic drop. This is Michael Moore's most essential, damning film yet. He calmly, clearly shows how America is the new Nazi Germany, leaving you angry but inspired that we must do something more. Now. But there is hope and he shows it – thankfully. #TIFF18

— Alex B. (@firstshowing) September 7, 2018
It seems that Moore's documentary about Trump isn't actually about Trump at all. Instead, Moore's Fahrenheit 11/9 is a sprawling, ambitious takedown of the entire American political system and the public's disillusionment with our leaders. It points to Trump as a symptom and not the disease itself, yet makes an effort to point to the danger that he poses.
While critics seem divided on whether this movie is messy or messianic, there's no doubt that Fahrenheit 11/9 will make waves once it hits the general public on September 21, 2018.