'Assassination Nation' Trailer: The Salem Girls Fight Back In Red Band Trailer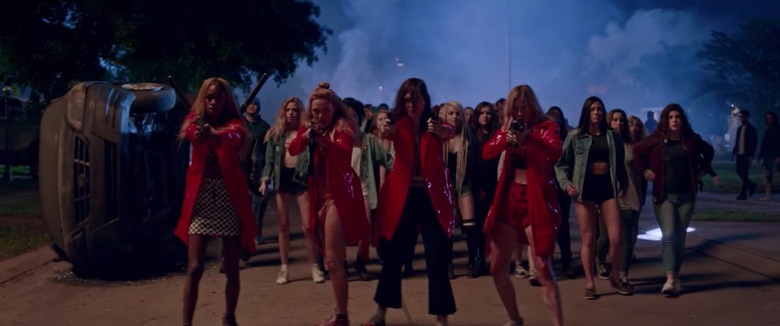 You're about to see Salem as you've never seen it before. The town that has become synonymous with the persecution of dozens of innocent women and girls, Assassination Nation imagines if a similar witch-hunt takes place in modern day — but the girls fight back.
The edgy Sundance selected thriller turns a peaceful small town into a bloodthirsty mob when a hacker starts leaking intimate emails, texts, pictures, and search histories of its residents. When four teenage girls get the blame for it, the town turns on them. But it's only a matter of time before they "get pissed off and fight back."
Assassination Nation Trailer
The new red-band trailer for Assassination Nation shows the ultraviolent feminist exploitation movie at its bloodiest. "The demon spawn of Heathers and The Purge" unleashes a relentlessly bloody, sexual, and stylish attack on the audiences. There's a reason it came equipped with
.
Odessa Young, Suki Waterhouse, Hari Nef and Abra play the four teenage friends who find themselves at the center of a witchhunt, when they get framed for the town-wide hack. But they're not taking this lying down: after surviving a few attacks from vengeful town residents, they gear up for the most deadly night of their lives.
It's all a little capital "E" Edgy, with the teen girls wielding machine guns and baseball bats while donning American flag bandanas — the kind of symbolism we just love to throw into our horror movies. But hey, it worked for The Purge movies and it could work for Assassination Nation.
Written and directed by Another Happy Day's Sam Levinson, Assassination Nation also stars Anika Noni Rose, Colman Domingo, Maude Apatow, with Bill Skarsgård, Joel McHale and Bella Thorne.
Here is the official synopsis for Assassination Nation:
High school senior Lily and her group of friends live in a haze of texts, posts, selfies and chats just like the rest of the world. So, when an anonymous hacker starts posting details from the private lives of everyone in their small town, the result is absolute madness leaving Lily and her friends questioning whether they'll live through the night.
Assassination Nation opens in theaters on September 21, 2018.