Denis Villeneuve's 'Dune' Looks To 'Mission: Impossible' Star Rebecca Ferguson For Female Lead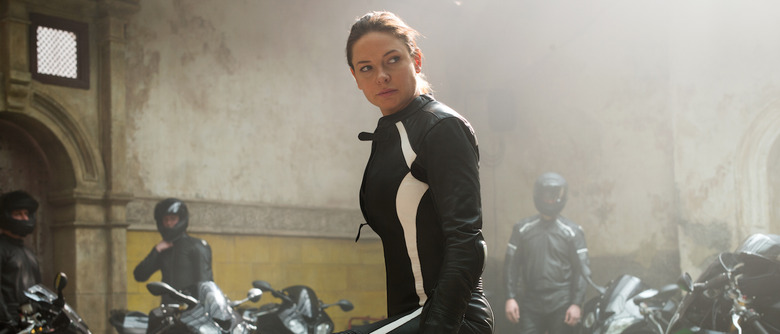 Denis Villeneuve's Dune adaptation may have found its Lady Jessica. Mission: Impossible breakout Rebecca Ferguson is in talks to join the Dune cast as the female lead, opposite Timothée Chalamet, who has already been cast as Paul Atreides.
Frank Herbert's epic sci-fi novel Dune is like the filmmaker's Mount Everest — sprawling, dense, and near-impossible to adapt. But with the right cast, Villeneuve may just be able to pull it off. The Blade Runner 2049 director has already landed Oscar nominee and new Hollywood It Boy Timothée Chalamet for the lead role of Paul Atreides, and now Variety reports that Mission: Impossible — Rogue Nation and Fallout breakout Ferguson is in negotiations with Legendary to star as the female lead.
Ferguson is reportedly circling the role of the undisclosed female lead, which — going by Herbert's seminal book — would be that of Lady Jessica, a concubine of Duke Leto and the mother of Paul Atreides. Francesca Annis played the character in the 1984 David Lynch adaptation, while Saskia Reeves took on the role in the 2000 Sci-Fi Channel TV miniseries Frank Herbert's Dune, later succeeded by Alice Krige in the 2003 sequel.
Ferguson has long deserved a chance to shine outside of the Mission: Impossible films, and her next big breakout role seemed to elude her (that thankless role in The Greatest Showman will never be enough for us). Though Dune is a daunting career choice, it will definitely be her biggest platform yet: all eyes are trained on Villeneuve, who has not made a bad movie yet. And with Chalamet on the cast, well, Dune will no doubt be one of the most beautiful casts ever.
If Dune was impossible to adapt, it's even more impossible to summarize. Herbert's 1965 book is set on the desert planet Arrakis and mainly follows the story of "Paul Atreides—who would become known as Muad'Dib—and of a great family's ambition to bring to fruition humankind's most ancient and unattainable dream." A potent drug called "the spice" also comes into play, giving its users "heightened consciousness and an extended lifespan at the cost of crippling addiction and fatal withdrawal."
Wisely, Villeneuve plans to split the dense first novel into at least two films, likely to avoid the failings of previous adaptations. In the 1970s, Alejandro Jodorowsky tried and failed to mount his own weird, ambitious Dune  adaptation (which was chronicled in the fascinating documentary Jodorowsky's Dune). David Lynch famously disowned his 1984 adaptation. And in 2000, the Sci-Fi Channel released a miniseries adaptation of the book, which went on to become one of the highest-rated programs in Sci-Fi's history.
Dune has long been a passion project of Villeneuve's, and it seems like he's serious about getting it right. The filmmaker directs a script by Eric Roth, who has reportedly finished a first draft of the script. Production will likely begin soon.