'The Witchlands' TV Show Announced By The Jim Henson Company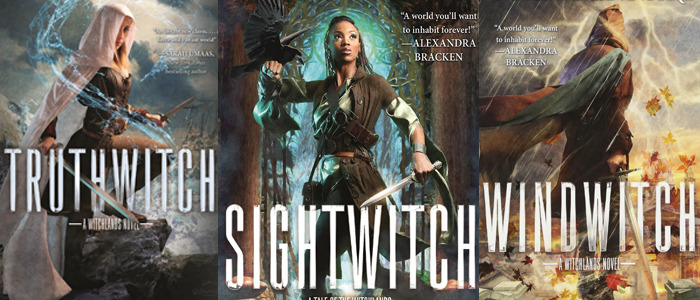 The poor reception to their R-rated puppet noir film The Happytime Murders hasn't seemed to negatively impact The Jim Henson Company yet, because they've just announced a brand new project. The company will produce a live-action The Witchlands TV show based on the bestselling fantasy novel series, and the artists at Jim Henson's Creature Shop will be designing and creating characters for the show.
Halle Stanford, The Jim Henson Company's president of television, made the announcement about The Witchlands TV show at a Dragon Con panel this weekend. Here's the official description of author Susan Dennard's first book in the saga, 2016's Truthwitch:
On a continent ruled by three empires, some are born with a "witchery", a magical skill that sets them apart from others.
In the Witchlands, there are almost as many types of magic as there are ways to get in trouble—as two desperate young women know all too well.
Safiya is a Truthwitch, able to discern truth from lie. It's a powerful magic that many would kill to have on their side, especially amongst the nobility to which Safi was born. So Safi must keep her gift hidden, lest she be used as a pawn in the struggle between empires.
Iseult, a Threadwitch, can see the invisible ties that bind and entangle the lives around her—but she cannot see the bonds that touch her own heart. Her unlikely friendship with Safi has taken her from life as an outcast into one of reckless adventure, where she is a cool, wary balance to Safi's hotheaded impulsiveness.
Safi and Iseult just want to be free to live their own lives, but war is coming to the Witchlands. With the help of the cunning Prince Merik (a Windwitch and ship's captain) and the hindrance of a Bloodwitch bent on revenge, the friends must fight emperors, princes, and mercenaries alike, who will stop at nothing to get their hands on a Truthwitch.
A sequel and a prequel have already been released, and the next book is slated to hit shelves in February 2019. According to Deadline, Dennard will serve as a co-executive producer on the TV show adaptation, which will track the protagonists as they "navigate warring empires, political machinations, and mercenaries who seek to use their magic for selfish gain."
"The Witchlands features a world of magic and astonishing characters that our Creature Shop can sink its teeth into and bring to life in an exciting and fresh way," Stanford said in a statement. "These books fulfill our desire to dive deep into a high fantasy world a la Lord of the Rings or Game of Thrones, where the women are the heroes and the world itself is seen through a feminine lens."