'Wonder Woman 1984' Will Bring Back Robin Wright's Antiope In Flashback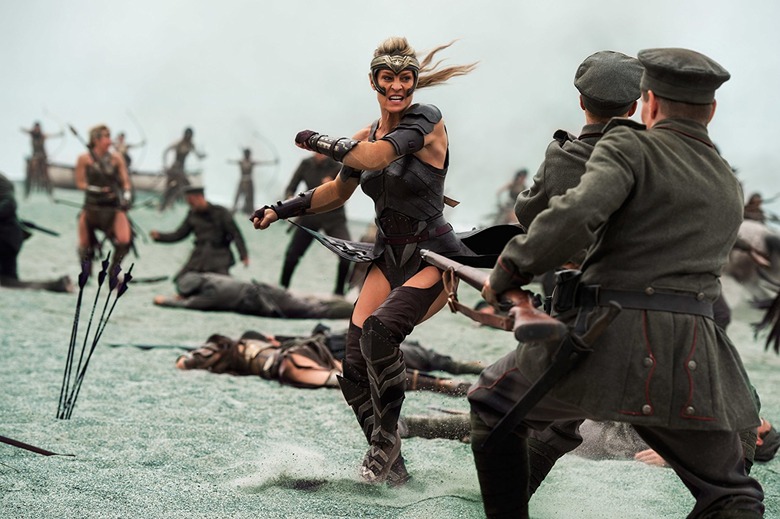 Steve Trevor isn't the only once-dead Wonder Woman character returning for the highly-anticipated sequel, Wonder Woman 1984. But unlike that dashing American spy, Robin Wright's General Antiope won't be coming back to life.
Sources have reported that we will see Robin Wright in Wonder Woman 1984 in a flashback sequence. A profile with Net-A-Porter (via The Mary Sue) confirms that Wright is filming a flashback scene in Spain with Connie Nielsen, who plays the Themysciran queen Hipployta.
This is our first confirmation of the sequel containing a flashback to Themyscira, the Amazonian utopia where Gal Gadot's Diana, a.k.a Wonder Woman, was raised. But like with Steve Trevor (Chris Pine), it seems like the sequel will be bringing back the best parts of 2017's Wonder Woman.
Robin Wright stole the scenes in Wonder Woman as Antiope, the fearsome general of the Themysciran army and Diana's beloved aunt who trains her to become a fighter. It was a sight to behold to see the 50-year-old Wright as a fierce warrior after decades of playing princesses and ice queens. But sadly, Wright's magnetic performance was cut short by a bullet intended for Diana during the German soldiers' beach attack on Themyscira. It was a grand and fitting sacrifice for a badass character, but come on, wouldn't you want to watch two more hours of Antiope and her lieutenant and possible lover Menalippe? (I would. Just give us the spin-off and move on, Warner Bros.)
Though Wright only had about 20 minutes of screen time in Wonder Woman, Antiope proved to have such a powerful impact — both on Diana, who wore her aunt's diadem in tribute to her, and on the DC Extended Universe as a whole — that Warner Bros. keeps finding excuses to bring her back. Wright reprised the role in Justice League reshoots, only to be rudely cut from the final movie. And now Wright is back in a flashback sequence to Themyscira in Wonder Woman 1984, which we still don't know the details of. Would I have loved to see Antiope try to navigate the Technicolor confusion of the '80s? Totally! But it seems like we'll have to make do with a confused Steve Trevor for now. At least we'll see Wright back in Amazonian warrior armor like she was always meant to be.
Wonder Woman 1984 is directed by Patty Jenkins, and features returning cast members Gal Gadot, Chris Pine, Connie Nielsen, and Robin Wright, with new cast members Kristen Wiig and Pedro Pascal. The film hits theaters on November 1, 2019.